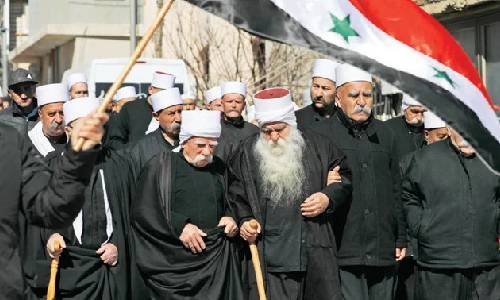 Golan Heights' Arab residents reject Israeli citizenship
Agencies | Ramallah
The Daily Tribune – www.newsofbahrain.com
Residents of the occupied Syrian Golan Heights have called on Arab states and the international community to drop Israeli citizenship requirements for travel. Israel annexed the Golan Heights in 1981 in a move that was condemned internationally.
The 30,000 residents of the Golan Heights bear Israeli identity cards similar to those held by citizens of East Jerusalem, where their status is described as residents and non-citizens.
Ayman Abu Jabal, one of the prominent leaders of the Golan community, said: "The lack of a passport for the residents makes them live in a cultural, political, social and economic siege, separating them from their Arab depth."
Egypt recently agreed to a request from the Syrian Golan Heights community to end the need for Israeli citizenship to visit the country. Young people in the community are seeking to work in Arab countries in light of poor economic conditions in the Golan Heights, a community statement said. But the requirement to hold Israeli citizenship prevents many from relocating abroad, the statement added.
After canceling the Israeli citizenship requirement, Egypt also condemned the occupation of the Golan Heights and praised the adherence of the area's occupants to their Syrian Arab identity. Egypt said it would welcome visitors from the Golan Heights with transit documents and visas.