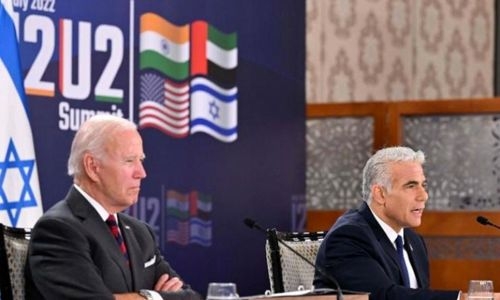 Israeli Defence Minister pledges to deny Iran nuclear weapons
Agencies | Jerusalem
The Daily Tribune – www.newsofbahrain.com
Iran was given a stark warning yesterday by Yoav Gallant of Israel soon after taking charge as the country's new Defence Minister.
In a statement to Jerusalem Post, Gallant said that Iran is striving to acquire nuclear weapons and pledge to fight what he described as "terrorism".
"The nuclear efforts, which Iran is leading, the rockets fired from the Gaza Strip, and all of the firings on IDF forces in Jenin have one common goal: to weaken us, to infect us with fear and to witness our destruction.
They will not succeed in this purpose!" said Gallant.
He noted that Iran is "pushing hard toward a nuclear weapon alongside repeated declarations of its aspirations to destroy the State of Israel."
"Iran, its proxies and all anti-Israel terror groups would fail in their mission to destroy Israel.
We would "prevent Iran from acquiring nuclear weapons," he said in a ceremony at IDF headquarters.
Gallant replaces Benny Gantz as the new Defence minister.
He also warned that strict measures will follow to prevent rockets from firing towards Israel from the Gaza Strip.
Members of Netanyahu's new government have pledged to bolster settlements with development plans, budgets and authorisation of dozens of outposts built without permits.
Netanyahu, however, has given no indication of any imminent steps to annex the settlements.
Gallant was named defence minister on Wednesday by Israeli Prime Minister Benjamin Netanyahu.
The 64-year-old former commander of the southern front is a loyal supporter of Netanyahu.
Gallant also held several ministerial positions in the previous governments.