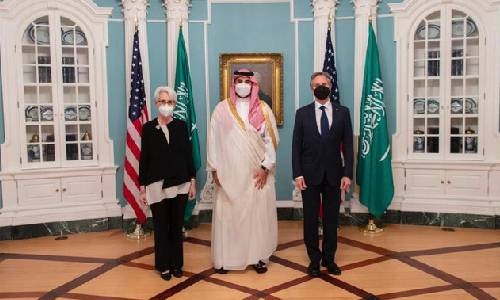 Saudi Arabia and US reiterate common vision to confront Iranian threats in the region
Agencies | Washington
The Daily Tribune – www.newsofbahrain.com
Saudi Deputy Defense Minister Prince Khalid bin Salman Al Saud and US State Secretary Antony Blinken have affirmed their countries' common vision to confront Iran's destabilizing policies in the region.
The two, who met in Washington on Saturday, reviewed the strategic relations between the Kingdom of Saudi Arabia and the US and ways to strengthen them, the Saudi Press Agency reported yesterday.
Blinken reiterated the US commitment to strengthen Saudi Arabia's defenses, efforts to counter Iranian threats, and the importance of maintaining strong international support for Ukraine. They also discussed managing pressures in global energy markets stemming from Russia's invasion.
Prince Khalid welcomed US affirmation of the Kingdom's support in developing its military capabilities and meeting its defense needs. The Saudi deputy defense minister also met US Special Envoy for Yemen Timothy Lenderking and discussed the latest developments in Yemen.
"I affirmed to him the Saudi-led coalition's backing of the Yemeni Presidential Leadership Council and its supporting entities, and our aspirations for reaching a comprehensive political resolution to the crisis that will lead Yemen into peace and prosperity," Prince Khalid said in a tweet.
They discussed the latest developments in Yemen and expressed strong support for the UN-negotiated truce, with Prince Khalid reaffirming Riyadh's aspirations for the Yemenis "to reach a comprehensive political solution that would move Yemen to peace and development."
On Thursday, the new US military commander in the Middle East said that Iran remains the most destabilising force in the region, calling for coordinated efforts to confront the threats by Iran.
General Erik Kurilla of CENTCOM said that Iran's uranium enrichment, ballistic missile development, and regional proxies, particularly the Houthis in Yemen, had repeatedly been central to his conversations with America's strategic partners during his recent tour of Egypt, the UAE and Saudi Arabia.