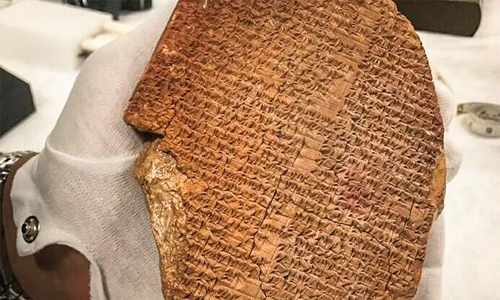 US to return 3500-yr-old Gilgamesh 'dream tablet' to Iraq
Agencies | Washington
The Daily Tribune – www.newsofbahrain.com
UNESCO officials will return a stone inscription bearing part of the Epic of Gilgamesh, one of the oldest known works of literature in the world, to Iraq, the UN agency has said in a statement.
They will hand the tablet to their counterparts from Iraq at a ceremony in Washington on Thursday, September 23, at the Smithsonian Institution, the statement said.
Some 17,000 other artefacts that were also looted following the US invasion of Iraq in 2003 will be returned to Baghdad at the event.
"By returning these illegally acquired objects, the authorities here in the United States and Iraq are allowing the Iraqi people to reconnect with a page in their history," UNESCO Director-General Audrey Azoulay said, adding that this restitution was a "major victory over those who mutilate heritage and then traffic it to finance violence and terrorism."
'Unprecedented' restitution
In July, the US Department of Justice announced it would be returning the artefacts to Iraq.
Calling the restitution "unprecedented," Iraqi Culture Minister Hassan Nazim said in a press statement at the time that it was "the largest return of antiquities to Iraq" and a "result of months of efforts by the Iraqi authorities in conjunction with their embassy in Washington."
In 2018, the British government returned ancient objects that were similarly looted after the US invasion and then appeared in England.