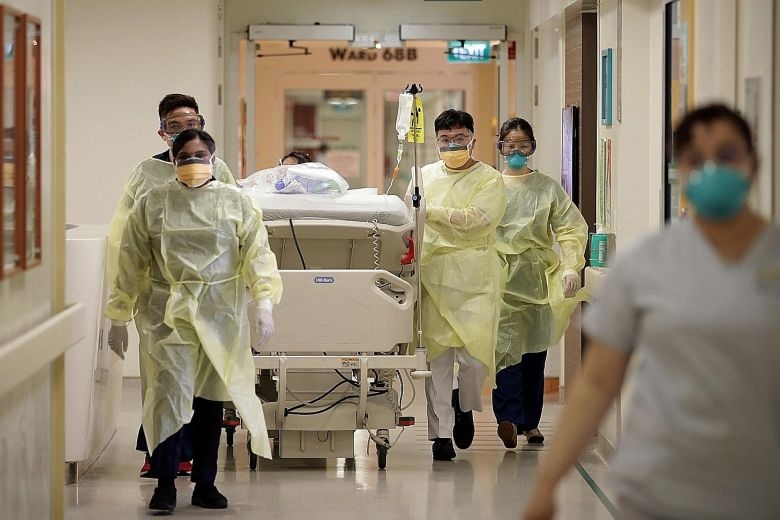 Global death toll due to coronavirus nearly 202,000 as of last night
Washington
As the global death toll from the coronavirus (COVID-19) surpassed 200,000 yesterday, countries took cautious steps toward easing some lockdowns. The worldwide death toll had reached nearly 202,000, according to a tally compiled by John Hopkins University from government figures, but the actual death toll is believed to be far higher, said an AP report. In India, easing restrictions meant reopening neighborhood stores that many of the country's 1.3 billion people rely on for everything from cold drinks to mobile phone data cards. But the loosening didn't apply to hundreds of quarantined towns and other places hit hardest by the outbreak, which has killed at least 775 people in the country and terrified its multitudes of poor who live in slum conditions too crowded for social distancing.
Shopping malls also stayed closed nationwide. Still, for families that run small stores, being able to earn again brought relief. Elsewhere in Asia, authorities reported no new deaths yesterday for the 10th straight day in China, where the virus originated. And South Korea reported just 10 fresh cases, the eighth day in a row its daily jump came below 20. There were no new deaths for the second straight day. Some countries extended or tightened restrictions, confirming a pattern of caution. Sri Lanka had partially lifted a month-long daytime curfew in more than two thirds of the country. But it re-imposed a 24- hour lockdown countrywide until Monday after a surge of 46 new infections, its highest increase in a day. Norway extended until at least Sept. 1 its ban on events with more than 500 participants.
Spanish Prime Minister Pedro Sánchez announced that Spaniards will be allowed to leave their homes for short walks and exercise starting May 2, after seven weeks of strict home confinement, though he said "maximum caution will be our guideline." Kids in Spain will get their first fresh air in weeks when a ban on letting them outside is relaxed starting today after 44 days indoors, with restrictions. Belgium sketched out plans for a progressive lockdown relaxation starting May 4 with the resumption of nonessential treatment in hospitals and the reopening of textile and sewing shops to make face masks.
In Italy, where restrictions also will be eased May 4, authorities warned against abandoning social distancing practices as millions return to work. Britain held off on changes to its lockdown as the virus-related death toll in hospitals topped 20,000. The figure doesn't include deaths in nursing homes, likely to be in the thousands. In France, the government prepared to ease one of Europe's strictest lockdowns from May 11, while officials in Rio de Janeiro and four other major cities warned that their hospital systems are on the verge of collapse or already overwhelmed.