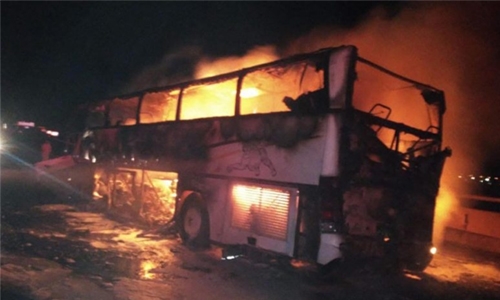 35 killed in horror crash near Medina
Thirty-five foreign tourists were killed and four others injured when a bus collided with another heavy vehicle near the holy city of Medina, Saudi state media said yesterday. The accident on Wednesday involved a collision between "a private chartered bus ... with a heavy vehicle (loader)" near the western Saudi Arabian city, a spokesman for Medina police said, according to the official Saudi Press Agency.
The accident took place on Hijrah road between Makkah and Madina. Those involved were Arab and Asian pilgrims, according to local media, which carried pictures of the bus engulfed in flames and with its windows blown out. Prince Faisal bin Salman bin Abdulaziz, Governor of Madinah region, expressed his deepest condolences to the families of those who died.
He ordered the necessary medical care to be provided for the injured. The injured have been transferred to Al-Hamna Hospital, SPA added, and authorities have launched an investigation.
PM Modi expresses grief
Indian Prime Minister Narendra Modi yesterday morning expressed his condolences to the families of the victims. "Anguished by the news of a bus crash near Mecca in Saudi Arabia. Condolences to the families of those who lost their lives. Praying for a quick recovery of the injured," the prime minister tweeted.
The accident comes after four British pilgrims were killed and 12 others injured in Saudi Arabia when their bus collided with a fuel tanker in April 2018. They were on their way to the holy city of Mecca. In January 2017, six Britons, including a two-month-old baby, were killed in a minibus on their way to Medina after making a pilgrimage to Mecca.