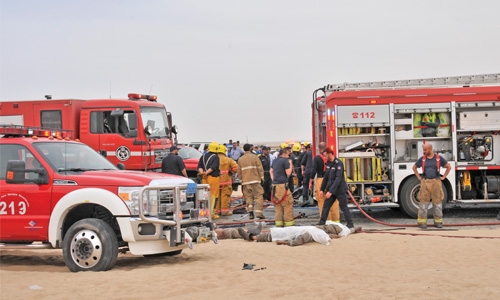 15 killed in Kuwait bus crash
Kuwait City : Two buses packed with passengers slammed into one another yesterday, leaving 15 people dead, Kuwait Fire Service Directorate (KFSD) said.
Two people, one a Kuwaiti citizen, were injured in the tragic accident that involved two buses on Al-Artal road, located close to the seventh ring road, the KFSD said.
The two buses collided head-on thus causing the high casualty, the department said.
Firefighters rushed to the scene to rescue the injured. One of them was taken by an ambulance and the other by air to hospital.
The firefighters had immediately intervened to help four individuals who were trapped in the wreckage of mangled metal.
Meanwhile, Kuwait Oil Company (KOC) announced that the buses were transporting employees of contracting firms that work for the company when the accident occurred near Burgan oil field.
In a statement to KUNA, KOC pointed out that medical emergency teams responded promptly to the accident, promising more details on the tragedy as they become available.
Later yesterday, Kuwait Oil Company (KOC) re-affirmed that two ill-fated buses boarded workers of two contracting companies that work for its service near Burgan oil field.
Seven of the victims were Indians, five Egyptians, three Pakistanis, in addition to two who were injured -- one Indian and the other Kuwaiti.
The KOC said it would investigate circumstances of the deadly accident.