Speed motor fixed to the welfare vehicle
How did India manage to grow while other countries almost drowned in the sea of economic turbulence triggered by the pandemic? The answer is quite simple: It is the speed that made the nation stand out among others.
The speed to think big, the speed to draw decisions, the speed to implement and the speed in follow ups.
From digital revolution to e-toilets, vaccination to defense exports, India's incredible growth is something that could be emulated by all developing nations of the world. And, we must not ignore that these success levels have been achieved while managing a behemoth population, which is close to 1.4 billion.
At the dawn of independence as well as in the journey forward, the nation faced many challenges in the form of illiteracy, low per capita income, poverty, high population growth, flawed healthcare system, corruption, casteism, discrimination against women, income disparity and unemployment.
However, India could gradually sail towards the shores of progress and prosperity fuelled by the appropriate actions of scores of visionaries, abundance of land and labour, although attracting capital and grooming entrepreneurship remained as significant challenges during these decades.
A country's success depends not only on its land, labour and technology but also on its knowledge and speed to progress in a competitive, market-driven economy. However, a trade-off between speed and scale is history as timely completion of public works projects has become a norm rather than an exception under Prime Minister Narendra Modi's leadership.
The focus has been on improving governance, raising educational achievements, increasing the quality of universities, controlling inflation, revamping fiscal policies, liberalising the financial markets, increased trade with neighbours and agricultural productivity. The Indian government also focused on working for the welfare of the poor, facilitating the middle class, empowering women, implementing pro-farmer policies, creating educational and job opportunities, ensuring social justice, and improving infrastructure facilities to develop every nook and corner of the country.
The nation's green drive is amazing! India's installed clean energy capacity has increased from 72.22 GW to 163.33GW. With this, India has achieved the fourth largest clean energy capacity, globally. India also has the fourth largest installed wind energy capacity in the world. In addition, there was a 20-fold increase in solar energy during the past decades. The Prime Minister has pledged that India will reach zero emission target by 2070.
The government has focused on making the growth very much inclusive. Nearly 80 crore people received free food grains, 1.75 crore houses have been sanctioned under AWAAS YOJANA; 11.5 crore toilets were built under Swachh Bharat Scheme; 31.9 lakh street vendors obtained loans through PM SVANidhi, over Rs 3,40,000 crore loans were given to small entrepreneurs under MUDRA Yojana.
Twenty crore Rupees cash transfers were done to women during the COVID lockdown period; Rs 5,300 crore in loan amount were sanctioned to Scheduled Castes and Scheduled Tribes under the Stand-Up India Scheme; 9.1 crore LPG connections were provided under Ujawala Yojana; 2.6 crore households were electrified under SAUBHAGYA, and 22.6 lakh crore were directly transferred into the accounts of beneficiaries. Pradhan Mantri Shram- Yogi Maandhan Pension Scheme for unorganised sector workers has helped 46.65 lakh unorganised workers.
India's human resources are among the most-sought after among the nations of the world including the GCC. NRI contributions have been a major factor like the economic uplift of many Indian states as well as sustaining their economies, especially Kerala.
Women empowerment is another area, which needs a special mention. Smoke-free kitchens with LPG Gas were a dream come true for those women with chronic respiratory disorders. Access to toilets for women in the rural areas at their convenience without any fear over safety or violation of dignity was a timely change. Walking long distances to collect water for daily consumption is becoming history as households across the country get private tap water.
India, with its strength in the service Industry, skilled workforce, natural resources, liberal economic policy, and a twenty-five-year plan as the 'Amrit Kaal,' is heading towards a much brighter and stronger Incredible Inclusive India.
Supersonic trains and scramjets will certainly become part of India's reality in the coming decades, considering the speed with which the nation is marching forward. Let us wish this great nation a successful growth story ahead.
(P Unnikrishnan Chairman and Managing Director of The Daily Tribune)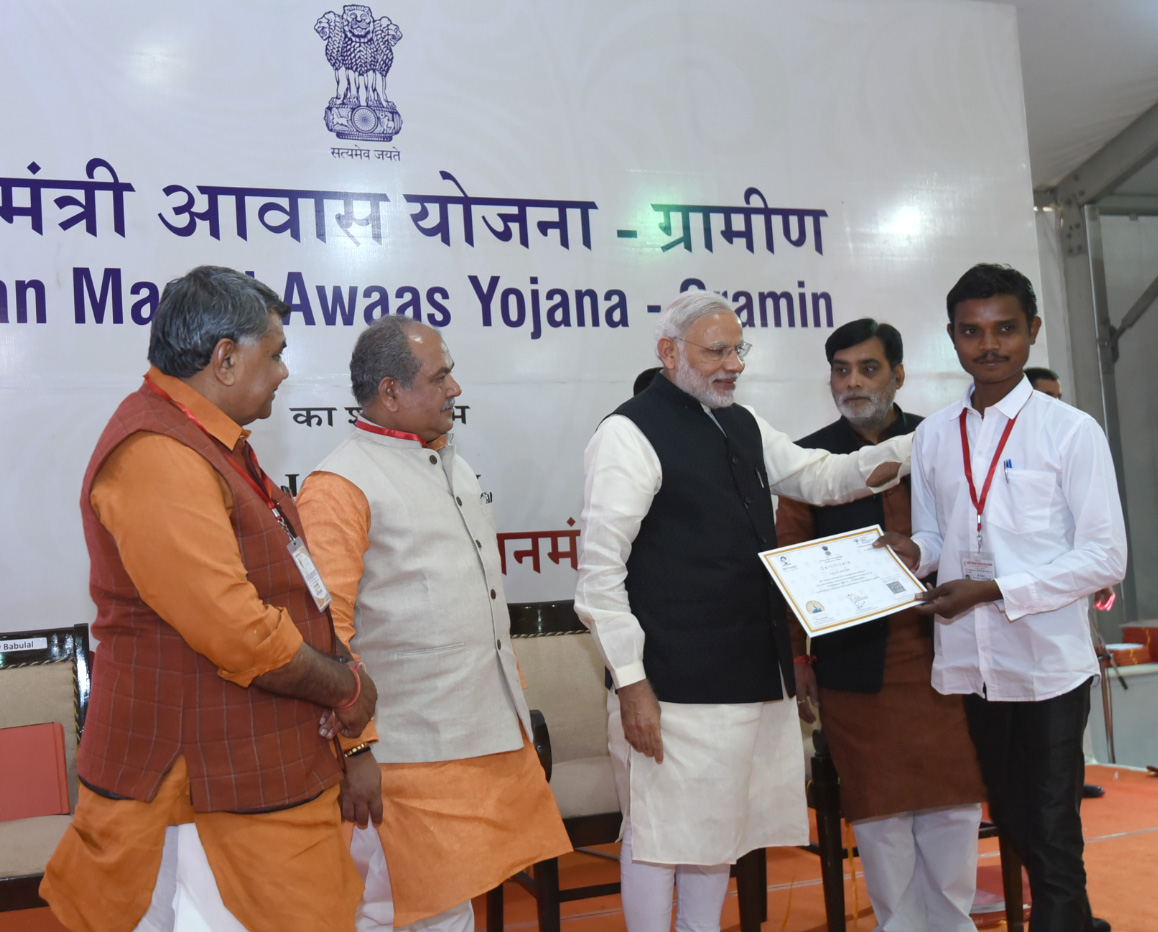 Indian Prime Minister Narendra Modi at the launch of the Pradhan Mantri Awas Yojana in Agra, Uttar Pradesh.