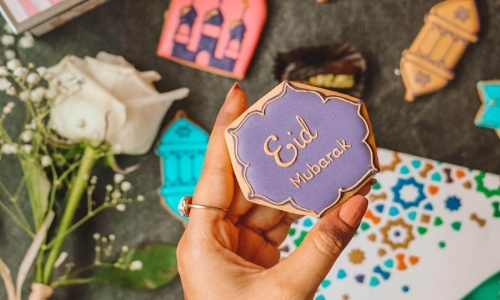 A Season of Joy and Fulfillment
TDT | Manama
The Daily Tribune – www.newsofbahrain.com
By Captain Mahmood Al Mahmood
Eid Mubarak to all my dear readers! This last week of Ramadan is a precious time, full of anticipation of the celebration and joy of Eid Al-Fitr, of the realization that thanks to God (Allah's) Mercy, we have traversed yet another valuable milestone in our lives as devout Muslims and offered up our devotion, our belief and our fasting to our spiritual growth.
How blessed we are that our beloved King, His Majesty King Hamad has shared so thoughtfully in the joy of the season.
For the past ten days, the news has all been about His Majesty meeting loving citizens, instructing his charity caretakers to ensure that widows and orphans are given full access to the joy of Eid and also that prisoners who show their regret and capacity to change for the better and those who have served much of their sentence are given a royal pardon to rejoin the world on this special festival.
Many lucky ones have returned from Umrah, a pilgrimage to the Holy Shrine in Mecca, and the universal conclusion is that much has changed for the better in terms of facilities for pilgrims in the Holy City.
During the pandemic years, the number of pilgrims was drastically reduced for health reasons and the Government of the Kingdom of Saudi Arabia has used this lull in one of the world's biggest religious pilgrimages to upgrade the whole experience.
Recently, Saudi Arabia's Ministry of Haj and Umrah announced that they had decided to raise the number of pilgrims this year to one million pilgrims from inside and outside the Kingdom.
This number will be divided according to the quotas allotted to each country while maintaining the health controls in place.
In keeping with the harnessing of digital means for all aspects of life, Umrah pilgrims can now pre-plan their Umrah via the Eatmarna and Tawakkalna applications of the Ministry of Hajj and Umrah.
This allows them to register for their Umrah permits and identify the most suitable time to perform Umrah based on the crowd percentage and time of day.
Truly, the Kingdom of Saudi Arabia has not spared any effort to provide all means of comfort for the pilgrims.
If the pandemic had any upside, it would be the Saudi innovative measures in making it easy for us all to uphold our faith and enjoy the spiritual fruits of our belief.
All praise to King Salman bin Abdulaziz, Custodian of the Two Holy Mosques for being such an able Guardian of our Faith.