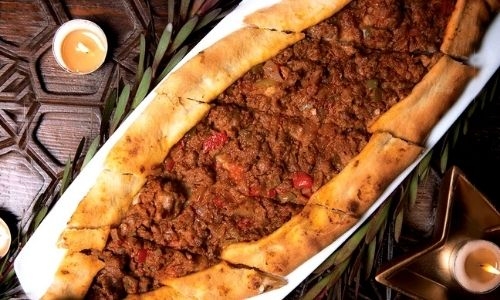 Baharat chef Onder Sahin on the history, speciality and recipe of Turkish pide
TDT | Manama
The Daily Tribune – www.newsofbahrain.com
The word 'Pide' (pronounced 'pea-day') is related to 'Pita', which is derived from Aramaic and simply means 'bread'. Pide is a Turkish boat-shaped flat bread that is often prepared with a variety of toppings and cooked in hot clay ovens. It is one of the most popular snacks in Turkey. Some Turkish locals would often prepare the topping at home at take it to their local bakery to be baked into delicious flat breads.
Biting into a pide, the first thing that you would notice is the flavor of the freshly baked bread followed by the unaltered flavors of the toppings. A commonly eaten favorite would be the Kiymali Pide that is prepared with minced meat, vegetables and spices. The juiciness of the toppings is immediately prominent with each bite.
Pide is prepared with other ingredients too such as spinach, mushrooms, cheese and egg. Pide takes a little longer to cook in a gas oven at home as compared to the hot clay ovens that could take just a few minutes. Chef Onder Sahin shares his recipe for delicious Kiymali Pide for our readers to try at home.
Kiymali Turkish Pide
Ingredients:
• 510 gms flour
• 1 ½ tbsp instant yeast
• 2 tsp salt • 210 ml lukewarm water
• 500 gms minced beef (not lean)
• 1 onion diced
• 3 cloves of garlic grated
• 1/2 green capsicum diced
• 1/2 red capsicum diced
• 2 tsp salt
• 1 tsp black pepper
• 2 tsp smokey paprika
• 2 tsp ground cumin
• 1/2 tsp parsley chopped
• 1/2 tsp pomegranate syrup
• Around 1 tsp of butter to brush the pides
Method:
1. Combine flour, yeast and salt then add the oil and warm water.
2. Use your hands to combine the dough and knead the mixture for five minutes to activate the gluten.
3. When you have a soft shiny dough, cover the bowl with a tea towel and place the bowl in a warm spot. A good place is near a sunlit window.
4. After an hour, the dough should be ready for use. Make sure that it has increased in size.
5. Preheat oven at 180C.
6. In a bowl, combine the minced meat, onion, garlic, and all the vegetables and add the pomegranate syrup.
7. Prepare two large baking sheets with baking paper.
8. Dust the bench top with a little flour.
9. Divide the dough into about 8 equal sized balls.
10. Roll out each of the balls into a thin oval shape.
11. Place each of the 8 dough bases on the baking tray.
12. Add the beef filling to the dough leaving a 1 ½ cm border around the outside.
13. Fold the border over the filling and pinch the top and bottom ends together.
14. Repeat the same steps until all the dough has the pide filling.
15. Brush each pide with the butter.
16. Bake the pides for about 15 – 20 mins at 180C or until golden. Serve hot.