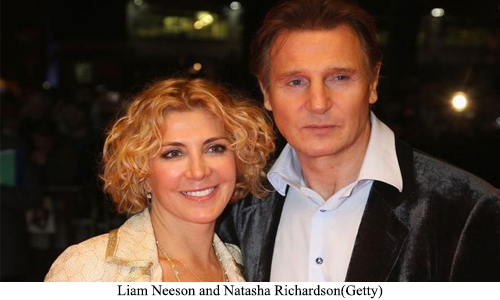 Liam Neeson reveals he's romantically involved with an 'incredibly famous' woman
He continues to grieve his wife's death following a tragic skiing accident in 2009.
But Liam Neeson is a step closer to finding love once again after revealing he is romantically involved with an 'incredibly famous' woman in an interview with the Irish Independent.
The Taken star wouldn't be drawn on her identity but did shed some light on what he might buy her for Valentine's Day.

He said: 'I'd embarrass her if I said her name, she's incredibly famous. I'll have to do my best for her. It's amazing how far a simple bunch of freshly picked flowers will go in a lady's life, I find.'

But the lucky lady might not be the only one receiving a romantic gesture from the 63-year-old Irishman.
The actor confessed: 'I'll send out a few bunches of flowers to various people and I usually just say "from an Irish admirer".'
When contacted by MailOnline, a representative for Neeson would not give further details on the star's new relationship.
Neeson's wife Natasha Richardson died aged 45 after hitting her head during a skiing lesson in Quebec, Canada.
The mother of two, who was not wearing a helmet, hit the left side of her face tearing a blood vessel in the brain, which would start as a slow leak and later prove fatal.
But initially she appeared unhurt and got up laughing. Unaware of the seriousness of the injury, she refused to see a doctor and even signed a medical form saying that she did not need help.

Neeson told the publication that Natasha's death was still a 'touchy subject' and added: 'Of course the grief is still there. You do your best.'
The pair met on the set of Broadway play Anna Christie in 1993. They married the following year and had two sons together, Micheál, 20, and Daniel, 19.
For five years the actor kept silent about his wife's death, before finally opening up in an episode of 60 Minutes.
The star told Anderson Cooper of the heartbreaking moment the decision was made to switch off Natasha's life support machine.
'I went in to her and told her I loved her. Said, "Sweetie, you're not coming back from this,' said Neeson. 'You've banged your head. It's-- I don't know if you can hear me, but that's-- this is what's gone down. And we're bringing ya back to New York. All your family and friends will come."'
The actor ended a two-year relationship with British publicist Freya St Johnston in 2012.
An insider told MailOnline at the time: 'He told her he wanted to spend more time in New York and that he really wants to make more time for his children.
'Freya wants something more serious, but Liam feels it is too soon. His wife only died three years ago, he wants to take things slow.'

Freya and Neeson began dating in September 2010. They had a long-distance relationship, with Liam living with his sons in New York and Freya living in London with her children.
The pair were also spotted out on a date night in London in 2014 following a promo event for his film Non-Stop.
Neeson starred alongside Micheál in an LG commercial which aired during the Superbowl on Sunday.
It is the first time the two have starred together and Neeson spoke of how special the experience was to him in an LG behind-the-scenes video.
He said: 'Being able to work with my son Micheál has been absolutely wonderful and quite unique.
'It's also our first time acting together and it's great to share the screen with him.'
The commercial shows Neeson as a man from the future giving advice to his present-day self while promoting the new technology of the LG OLED TV.
Micheál described working with his Oscar nominated father as a 'very cool experience.'
'It's weird seeing him differently to him making me do the dishes or waking me up in the morning,' he said. 'In this I am supposed to possibly be him in the past and him as me in the future.'
The Run All Night star described his character in the commercial as an enigmatic man from the future that's traveled back to the present day on a very important mission.
'He represents that inner-appeal, that curiosity we have to find out about the future,' the Taken star said. 'So we go after it and we want to know what's out there.'
Unsurprisingly, Natasha's death had a profound impact on the up and coming actor.
In an interview with The Sunday Times last year, he admitted: 'I was going out, partying a lot, looking for self-gratification. I wanted to be the man, doing these drugs.'
'Everybody said, "This kid has lost his mum, that's where the problem comes from". And I was like, "No, it isn't, I just like to party". But looking back, I realise it was a delayed reaction.'
But after 'hitting rock bottom' in 2014, the young actor checked himself into rehab.
Neeson Snr's next feature-length is Martin Scorcese's historical drama Silence which is now in the editing suite ahead of its release later this year.
He is also working on Operation Chromite. The upcoming war drama, directed by Korean film-maker John H Lee, tells the story of a group of soldiers during the Battle of Inchon during the Korean war in 1950.
Neeson is one of the main western actors in a cast dominated by South Korean actors.