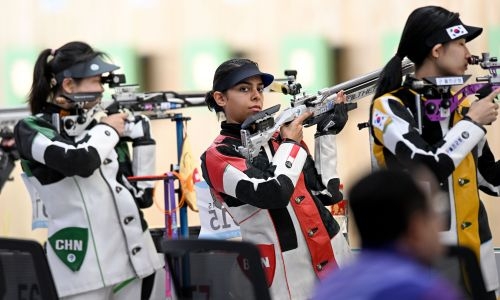 Bahraini athletes press on in individual sports at 19th Asian Games
TDT | Manama
The Daily Tribune – www.newsofbahrain.com
Team Bahrain continued their campaigns yesterday in shooting, esports, judo, rowing and sailing at the 19th Asian Games in Hangzhou, China.
In shooting, Bahrainis Safa Al Doseri and Sara Al Doseri could not advance past the qualification round of the women's 10m air rifle competition.
Safa was ranked 41st amongst the 59 participating shooters. She finished with a total score of 618.8. Sara followed in 51st place with a 614.5 total.
Only eight athletes booked their places in the final. They were led by Jiayu Han of China with a total score of 634.1.
In esports, Bahrain's Abdulaziz Faqeehi advanced to the second round of the winners' bracket in the EA Sports FC Online competition.
He first defeated Karman Singh of India 2-1 in the preliminary stage, and then went on to beat Meshari Aldhafiri of Kuwait in the winners' bracket first round.
But then Faqeehi lost to Junhyouk Kwak of South Korea 1-2 in the winners' bracket second round, dropping him to the losers' bracket fourth round, where he lost to Indonesia's Mohammad Rahmaditya 0-2.
In the same competition, Bahrain's Rashed Al Ruwaihi beat Jorrel Aristorenas of the Philippines 2-0 in their preliminary contest, but Al Ruwahi then lost 0-2 to Jiacheng Liu of China in the winners' bracket first round.
That relegated him to the losers' bracket second round, where he lost to Charan Jot Singh of India 1-2.
In judo, Bahrain's Ramaza Kodzhakov lost to China's Ziyang Xue in the men's under-66kg round of 32.
In rowing, the pair of Fahad Albanki and Omar Alhasan were classified sixth overall amongst six crews in the men's doubles sculls Final B.
Albanki and Alhasan completed their race in eight minutes 29.87 seconds, more than a minute-anda-half behind the winners from South Korea.
Crews from Hong Kong and Sri Lanka followed, while Thailand and Kuwait were in fourth and fifth, respectively.
In sailing, Bahrain's Khalifa Al Doseri had a tough day on the water at Ningbo Xiangshan Sailing Centre. Competing in the boys' dinghy fleet, he finished 12th in race seven and then was disqualified in race eight.
Following those results, Khalifa remained in ninth place overall with 59 net points.