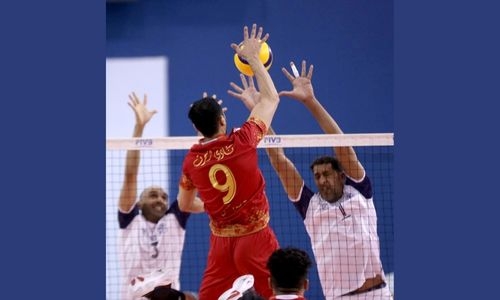 Najma cruise past Muharraq in volleyball league
TDT | Manama
The Daily Tribune – www.newsofbahrain.com
Al Najma cruised to a dominant 3-0 (25-22, 25-18, 25-11) victory over Muharraq last night in their round-of-six contest of the 2022/2023 Isa bin Rashid Bahrain Volleyball League.
The game took place at Isa bin Rashid Arena at Isa Sports City in Riffa. It was part of the second phase of the league's sixteam playoffs, which is being played in double round-robin format.
The top four at the end of these fixtures move on to the league's semi-finals.
Najma were the aggressors from the start and they never wavered. With the result, they continued their winning ways as they improved to a table-topping 7-1 win-loss record, while handing Muharraq their fifth loss in eight outings.
Najma are currently ahead of Al Ahli (5-2) and Dar Kulaib (5- 2) on the standings, while Muharraq are in fourth. Al Nasser (2-5) and winless Nabih Saleh (0-7) round off the classification.
Najma were led by the likes of Ali Ebrahim, Mirza Abdulla, Hassan Dhahi, Fadhel Abbas and Estonian professional Kevin Saar; while Muharraq's top players in the loss were Nigerian import Samuel Anthony Ogwuche, Abbas Ehsan, Hussain Khalifa, Hassan Al Haddad and Sayed Ali Mohammed.