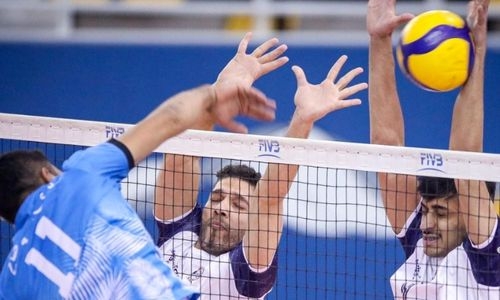 Muharraq, Najma claim tough five-set victories
TDT | Manama
The Daily Tribune – www.newsofbahrain.com
Muharraq and Al Najma both claimed hard-earned victories in five sets last night in their round-of-six contests of the 2022/2023 Isa bin Rashid Bahrain Volleyball League.
Muharraq needed to battle to the maximum to topple Al Nasser 3-2 (20-25, 25-20, 25- 19, 17-25, 15-13) in their contest, while Najma avoided an upset and overcame a tough challenge from Nabih Saleh 3-2 (25-22, 25- 16, 20-25, 22-25, 15-10).
Both games were played at the Isa bin Rashid Arena at Isa Sports City in Riffa.
They were part of the second phase of the league's round-of-six playoffs, which is being played in double round-robin format.
The top four at the end of these fixtures move on to the league's semi-finals.
With their wins yesterday, Muharraq improved to a 3-4 win-loss record while Najma moved to solo first place on the six-team table with a 6-1 mark.
The rest of the standings feature Al Ahli on 5-1, Dar Kulaib with a 4-2 win-loss mark, Nasser with a 2-5 mark and Nabih Saleh with a winless 0-7 standing.
In Muharraq's win, they managed to stave off a late Nasser charge. Playing key roles for their side were Nigerian import Samuel Anthony Ogwuche, Abbas Ehsan, Hussain Khalifa, Hassan Al Haddad and Sayed Ali Mohammed.
For Nasser, they relied on the efforts of Mohammed Jassim, Ali Sultan, Ibrahim Mohammed, Hussain Mahdi and Jassim Turki in putting up a tough fight.
Meanwhile, Najma appeared to be cruising to another fine victory after going two sets up against Nabih Saleh, but their rivals clawed their way back valiantly and forced the tie-break.
Najma were eventually able to hold on for the win, led by the likes of Mirza Abdulla, Hassan Dhahi, Fadhel Abbas and Estonian professional Kevin Saar.
Nabih Saleh almost ended their losing streak but were unlucky in the end.
Hussain Ashoor, Sayed Hashem, Jaafar Radhi and Kenyan professional Peter Camara put in fine performances in the loss.