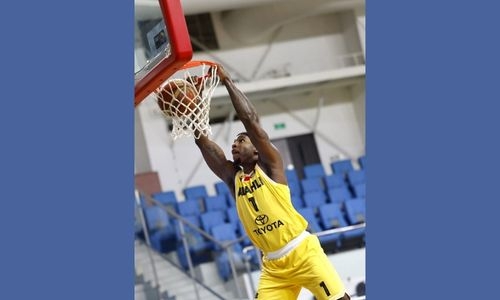 Al Ahli power past Bahrain Club
TDT | Manama
The Daily Tribune – www.newsofbahrain.com
Al Ahli powered to a well-deserved 90-76 victory over Bahrain Club last night in their week 18 contest of the 2022/2023 Zain Bahrain Basketball League.
Ahli used a strong third-quarter showing to turn a slim 49-43 advantage at the half to a commanding 72- 56 lead heading into the final canto.
They didn't let up from there, going up by as many as 18 points late in the game.
Lenny Daniel finished as Ahli's leading scorer with 36 points while also taking down 12 rebounds.
Ali Aqeel added 14 while Mohammed Kowayed scored 11 and Maitham Jameel and Hesham Sarhan had 10 apiece.
Subah Hussain narrowly missed out on a double-double, scoring nine points and registering 10 boards in the win.
Ali Abbas had 19 to pace Bahrain Club. Big man Xavier Gibson was held to just 14 points and eight rebounds, while Husain Safar also scored 14.
Ahli claimed their 13th win to go with three losses as they rose to the top of the league standings, leapfrogging defending champions Manama, who have a game in hand.
Bahrain Club suffered their ninth loss but stayed in the tophalf of the table.
In yesterday's other game, Malik Wineglass poured in a redhot 42 points and also grabbed 20 rebounds to spearhead Sitra to an 86-75 win against Samaheej.
The game was tied at 22-all at the end of the first but Sitra went up 43-39 at the half.
They stretched their advantage in the third and led 69-60 heading into the final period, where they maintained the gap and closed out the 11-point winning margin.
Wineglass also finished with five assists in his one-man offensive barrage.
Ali Jawad Salman chipped in with 12 points and Ali Eid had 11 for Sitra.
Samaheej were paced by the 17 points of Basel Adel, while Mohammed Abdulla Jaffar had 16.
Sitra claimed their fourth win in 16 games while Samaheej suffered their 14th loss as they both stayed in the bottom of the league standings.
League action continues tonight with an exciting match-up between title-contending clubs Muharraq and Al Najma.
The game is scheduled for a 5.30pm tip-off.