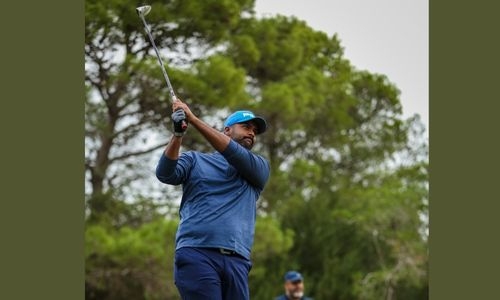 Bahrain finish strong in Arab golf
TDT | Manama
The Daily Tribune – www.newsofbahrain.com
Bahrain wrapped up their fantastic campaign yesterday in the 41st Pan Arab Men Golf Championship by finishing fourth overall in the teams' competition while boasting three players in the final individual rankings' top 10.
Fahad Al Hakam and Ahmed Al Zayed were seventh and eighth, respectively, while Khalifa Al Merisi was classified 10th after 72 holes of play at La Cigale Tabarka Golf course in Tunisia.
The host Tunisians were crowned team champions after finishing the four-day tournament with a total of 898 strokes from their top three players. Egypt followed as the silver-medallists with a 916 score, while Saudi Arabia took the final podium place and the bronze medals with a 925 total.
Bahrain in fourth had a 938 aggregate, while Qatar (976) were fifth, the UAE (1,008) sixth, Palestine (1,009) seventh and Lebanon (1,011) eighth.
The final team rankings were rounded out by Libya (1,021) in ninth, Iraq (1,037) in 10th, Oman (1,039) in 11th and Kuwait (1,057) in 12th.
In the individual classification, Al Hakam was Bahrain's best finisher in seventh with a 23-over-par 311 total score from the four rounds.
He carded a five-over 77 yesterday over the last 18 holes, completing a consistent performance that saw him score 77, 79 and 78 over the first three days.
Al Zayed followed in eighth place after going just one shot behind Al Hakam. He had an eight-over-par 80 yesterday to go with his other totals of 81, 75 and 76 for the 312 overall.
Al Merisi was a further four shots back with a 28-over-par 316 total from four rounds.
He carded a 77 yesterday, adding to his other scores of 84, 75 and 80. Bahrain's fourth player in the competition, Khalifa Duaij Al Kaabi, finished ranked 15th from the 48 players who started the event.
Al Kaabi had a 78 yesterday to finish with a 38-over-par 326 total. His scores from the first three days were 85, 82 and 81.
Elyas Barhoumi was crowned champion, ensuring that the home team Tunisians came away with a championship double.
Barhoumi was a class above the rest of the field, finishing as the only player to go below par.
He had an impressive two-under 286 total from four days, carding a one-over 73 yesterday to add to his other marks of 71, 70 and 72.
Saaoud Abdallah Al Sherif from Saudi was the individual silver-medallist after completing the event three shots behind.
He finished one-over-par 289 after also scoring 73 yesterday.
Issa Abu El Ela from Egypt clinched the bronze with a four-over 292 total, playing an even-par 72 over the final 18 holes.
The tournament took place under the umbrella of the Arab Golf Federation, and was sanctioned by The R&A.
The Kingdom's delegation in Tunisia was headed by Captain Adel Ali Al Fayyad, and included Spanish head coach Gabriel Sota.