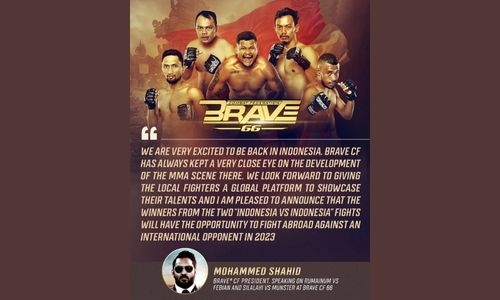 Winners of "Indonesia vs Indonesia" fights at BRAVE CF 66 will compete abroad, says president
TDT | Manama
The Daily Tribune – www.newsofbahrain.com
BRAVE Combat Federation President Mohammed "The Hawk" Shahid has given four BRAVE CF Indonesian fighters the perfect motivation ahead of BRAVE CF 66, which goes down in Bali, on November 26th.
As BRAVE CF prepares to touch down in the South-East Asian nation, President Shahid has guaranteed the winners of Oloan Silalahi vs Wilem Natalex Munster and Achterson Andre Rumainum vs Randi Febian will get the chance to compete against international opponents next year.
"We are very excited to be back in Indonesia," says Shahid. "We have always kept a very close eye on the development of the MMA scene there.
We look forward to giving the local fighters a global platform to showcase their talents and I am pleased to announce that the winners from the two "Indonesia vs Indonesia" fights will have the opportunity to fight abroad against an international opponent in 2023''.
Indonesia has always been earmarked as a long-term target territory for BRAVE Combat Federation following the success of BRAVE CF 12: KHK Legacy that took place in the city of Jakarta in 2018.
Now, Silalahi, Munster, Rumainum, and Febian have an equal shot of earning a life-changing opportunity.
In the only Light Heavyweight clash of the night, Silalahi faces his countryman, Munster for honors in the BRAVE CF 205-pound division.
Silalahi will make his second BRAVE CF appearance while Munster is set for his BRAVE CF debut.
Silalahi introduced himself to BRAVE NATION in devastating fashion when he knocked out India's Satinder Bankura at BRAVE CF 20 in 2018.
Munster may be new to BRAVE CF, but he is also known for delivering vicious KOs setting up a potential contender for "Fight of the Night".
Featherweights Rumainum and Febian make their professional debuts in the opening fight of BRAVE CF 66.
Rumainum is a former K-1 fighter who trains out of Papua Top Team and Proximo gym and will start his MMA career in the 145-pound division.
While Febian has a K1 background, he is also a former Province Sambo champion.
The Han Malang athlete will lean on all his knowledge and skill to make his professional MMA debut a lasting one.