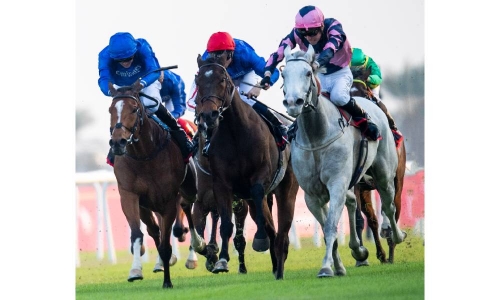 Bahrain Turf Club announces 20 per cent prize money rise for 2022/23 season
TDT | Manama
The Daily Tribune – www.newsofbahrain.com
The Bahrain Turf Club is delighted to announce a 20 per cent increase in prize money for the 2022 Bahrain International Trophy and the 2022/23 Bahrain Turf Series.
The total prize money for the Group 3 Bahrain International Trophy has gone up to £600,000 for 2022, an £100,000 increase from last year.
Meanwhile, each of the ten Bahrain Turf Series races will now be run for £60,000 per race, up from £50,000 last season. The Bahrain International Trophy, which was first run in 2019 as a conditions race, was upgraded to Group 3 status for the first-time last year with Lord Glitters narrowly beating Barney Roy in a pulsating finish to the 1m 2f contest.
The race has been supported by some of the world's leading trainers including John and Thady Gosden, Andrew Balding, Aidan O'Brien and Andre Fabre. Bahrain Turf Club executive director Shaikh Salman bin Rashed Al Khalifa believes that this increase in prize money will only cement the race further on the International racing calendar.
Shaikh Salman said: "We are delighted to announce an increase in prize money for our feature race, the Group 3 Bahrain International Trophy. We are continually looking to develop horseracing in the Kingdom and by making this race more valuable, we believe that it is now firmly established on the international programme.
"We look forward to this year's renewal and hope that we will attract some of the best horses from around the world."
Top yards
The inaugural Bahrain Turf Series took place during the 2021/22 season in Bahrain with many top yards supporting the series including Charlie Appleby, William Jarvis, Jamie Osborne, and Michael Bell.
The series is open to horses rated between 85-100 and will now be worth £60,000 per race. The 10-race Series, which starts again on December 9, will take place over five race days with the final Series race day taking place on February 17.
The Bahrain Turf Series will also have a bonus point system attached depending on where horses finish. The points will be added at the end of the series. Like last year, there will be two Pots: Pot A will be for horses racing over five and six furlongs (1000m and 1200m) and Pot B for nine and 10 furlongs (1800m and 2000m).
The owner of the horse with the most points in each pot will get £15,000 and the trainer of the horse with most points will get £10,000. This will mean an extra £50,000 in total prize money. Bahrain Turf Club head of racing Edward Veale said: "We are delighted that the Bahrain Turf Series will return this winter for increased prize money.
"Having studied in-depth the statistics around prize money both in the UK and Bahrain, our findings have shown that horses rated between 85 and 100 earned around 50% more prize money in Bahrain compared to those running in the UK between December 10, 2021 and February 18, 2022.
"With 20 per cent more prize money on offer this winter, we see the Bahrain Turf Series as an excellent option for owners and trainers wishing to race their horses throughout the winter months for greater return compared to staying in the UK."