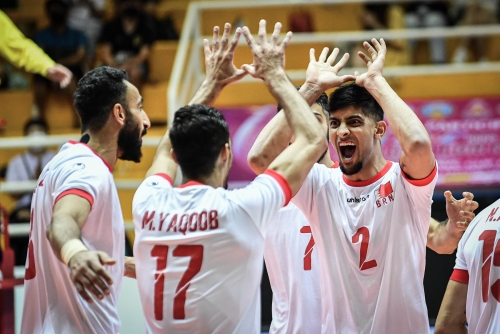 Bahrain punch semi-finals tickets in Asian volleyball
TDT | Manama
The Daily Tribune – www.newsofbahrain.com
Bahrain barged through to the semi-finals of the 2022 Asian Volleyball Confederation (AVC) Cup for Men yesterday after sweeping past Pakistan 3-0 (25-18, 27-25, 25-20) in their concluding game of the main round at Nakhon Pathom Provincial Gymnasium in Thailand.
The result put them in second place to end their campaign in Pool F and earn their spot in the final four along with fellow group members China. There, the Bahrainis are set to take on Pool E winners Japan, while the Chinese will be facing off with Pool E runners-up South Korea.
The nationals, who are making their debut in the competition, showed their class against their Pakistani counterparts yesterday in their straight-sets victory. Fresh from stunning Asian giants Iran in their previous fixture on Thursday, the Bahrainis continued to show their impressive form and went right to work against Pakistan.
Naser Anan and Mohamed Abdulla came up with hard attacks from both wings to help lift the team's 25-18 victory in the first set. In a see-saw second, both teams matched each other point for point until 25-all, but then the Bahrainis managed to claim the next two points to take the 2-0 match advantage.
They then sealed the win in a dominant third set, going five points clear midway through and holding on to that gap until the end. Abdulla top scored for Bahrain with 14 points, all from his powerful attacks. Fahad Raza led Pakistan with 12 points.
"It was a difficult match for us as some players in my team are tired," said Bahrain head coach Issanaye Ramires from Brazil. "Regarding our teamworks, I think we can do better than this in sideouts and attacks."
Bahrain head into their semi-final clash against Japan as the underdogs, but will give their maximum effort. The game is scheduled for an 11am start, Bahrain time. The South Koreans and Chinese clash in the next final four contest at 2pm, Bahrain time.
Bahrain are playing for the first time in the AVC Cup for Men, which is in its seventh edition. Along with Abdulla, who has been one of their best players in the tournament, and Naser Anan, the rest of the team competing in Nakhon Pathom includes setters Mahmood Hasan and Mahmood Alafyah; wing spikers Mahmood Ahmed and Yusuf Ali; opposites Mohamed Anan and Ali Khamis; middle blockers Abbas Al Khabbaz, Husain Aljeshi, Mohamed Aldawiri and Mohamed Abdulla; and liberos Ayman Haroona and Husain Sultan.u