Star-studded Bahrain athletics team for GCC Games
TDT | Manama
The Daily Tribune – www.newsofbahrain.com
A star-studded line-up of world-class Bahraini athletes will be flying Bahrain's flag at the third edition of the highly anticipated GCC Games, which get underway today in Kuwait.
Among the track and field stars set to spearhead the women's athletics team are Tokyo Olympics silver-medallist Kalkidan Gezahegne, former Asian Games gold-medallist Winfred Yavi, Rio Olympics gold-medallist Ruth Jebet, current Asian half-marathon record holder Eunice Chebichii Chumba, ex-world championship bronze-medallist Aminat Jamal and former Asian champion Tejitu Daba, to name only a few.
Women's athletics will get the action underway today in the multi-sport Games. It will be an historic moment for the event, as it marks the first time in the GCC Games that women's athletes are competing.
Events begin this morning at 9am, and then after a midday break, resume at 5pm. Eight gold medals will be up for the taking on the first of three days of women's track and field competitions. Tonight's finals include the women's 400m, the women's 100m, the women's 10,000m, the women's javelin throw, the women's long jump, the women's pole vault, the women's shot put and the women's 110m hurdles.
Noora Salem Jasim will be in the women's shot put final, Fatima Mubarak is set to compete in the women's long jump final, and Bontu Edao Rebitu and Violah Jepchumba will go for gold in the women's 10,000m final.
All medal events will take place in the afternoon. In the morning, Hajar Saad Al Khaldi will run in the women's 100m semi-final, Saleha Mohammed Lahdan and Aminat Jamal will race in the women's 100m hurdles semi-finals, and Muna Saad Mubarak with Awatif Imoleayo Ahmed will contest the women's 400m semi-finals.
Should they advance to their respective medal rounds, those will be held also this evening. The women's athletics programme will continue until Sunday, after which the men's athletes will take centre stage from Monday to Wednesday.
Bahrain also have an ultra-strong roster of athletes amongst the men, with a number of titlists at all levels of the sport. Among them are Alsadik Mikhou, Elhassan Alabbassi, Shumi Dechasa, Alemu Bekele, Abdelrahman Mahmoud, John Koech, Dawit Fikadu and Birhanu Balew.
Athletics is just one of 16 sports in which Bahrain will be participating at this year's GCC Games. The others are basketball, volleyball, judo, karate, fencing, shooting, tennis, cycling, swimming, ice hockey, Esports, table tennis, padel, futsal and handball.
Basketball includes 5x5 for men and 3x3 for women. Futsal will be the next sport to get underway, with matches set from May 14, alternating each day for men and women. Shooting is then scheduled to begin from Sunday, then men's basketball will be from Monday, and swimming from Tuesday. Cycling will start from Thursday and volleyball on Friday, while the other sports are scheduled to get underway from the beginning of next week and onwards.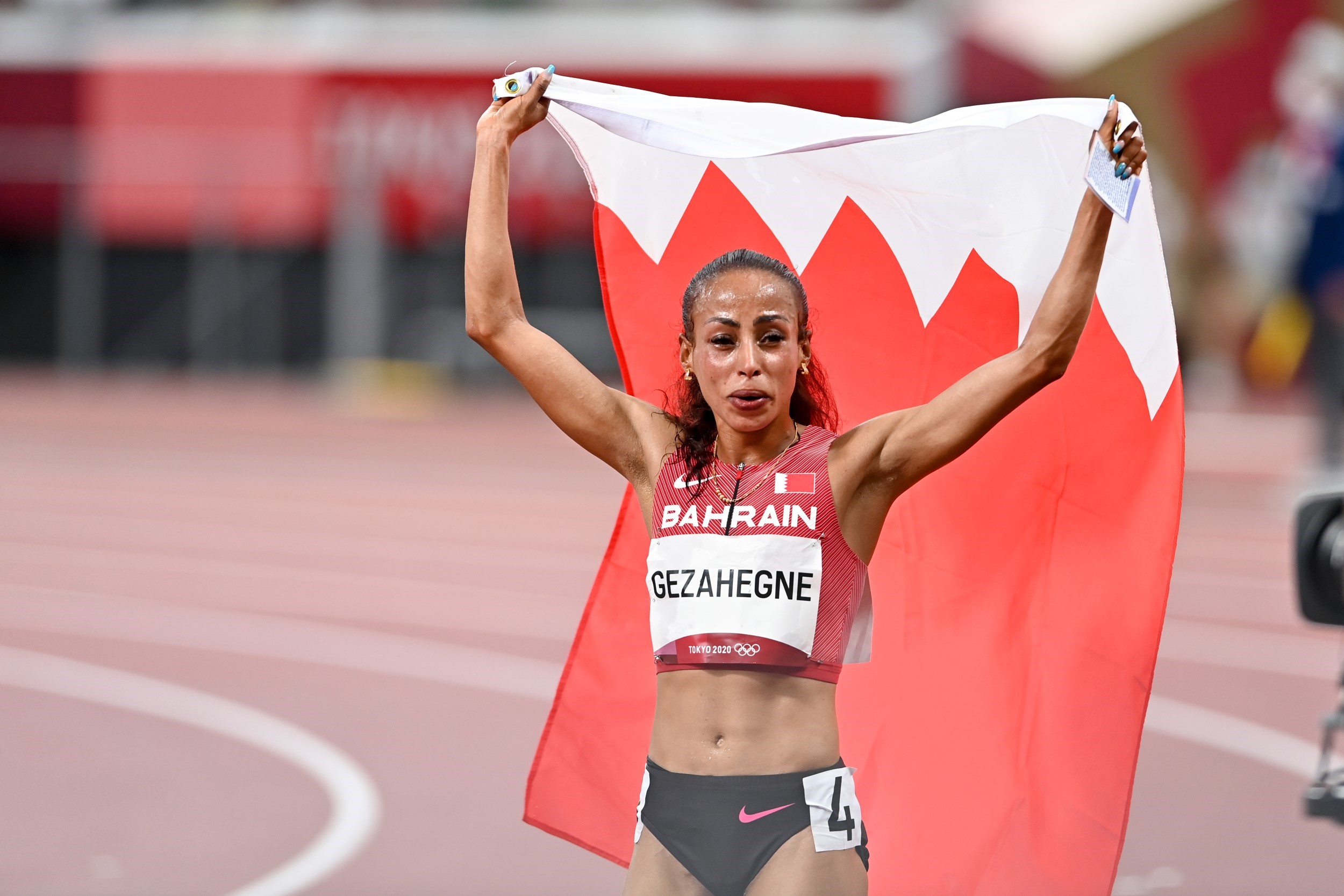 Bahrain's Olympic silver-medallist Kalkidan Gezahegne will be hoping to fly the Kingdom's flag high in Kuwait (File photo)