Bahrain strike gold in World Military marathon
TDT | Manama
The Daily Tribune – www.newsofbahrain.com
Bahrain made a near-clear sweep of the gold medals at the 52nd World Military Marathon Championship on Sunday, which took place along the Costa Verde beach in Lima, Peru.
Bahrainis Shumi Dechasa and Eunice Chebichii Chumba captured the men's and women's individual gold medals, respectively, in the meet, while Dechasa led the men's squad to securing their team title.
Along with the three golds, Bahrain's athletes also came away with three silver medals. Marius Kimutai Jepki clinched the men's individual silver behind Dechasa, while Shitaye Eshete claimed the women's individual silver medal.
Additionally, the Bahraini women won their race's silver. Bahrain's athletes thus came away with an impressive six medals from the International Military Sports Council (CISM) event, which featured a total of 76 athletes—48 men and 28 women—representing 17 nations from all across the globe.
Dechasa was the outright winner in the men's race, completing the 42.2-kilometre distance in a total time of two hours 10 minutes nine seconds. With his win, Dechasa added to his title from the CISM Military World Games held in Wuhan, China in 2019.
Jepki was a close runner-up just two seconds behind, while Mohamed Red El Aara from Morocco came away with the bronze. Also competing for Bahrain amongst the men was Zelalem Bacha Regasa, who finished fifth overall in 2:11:33 to help them secure the team gold.
They had a combined time of 6:31:54. Morocco were the men's teams silver-medallists, while Poland won the bronze. On the distaff, Eunice won her individual gold medal in a time of 2:34:09. Shitaye followed in 2:34:30 to complete the Bahrain one-two, while Iwona Bernardelli from Poland was the bronze-medallist.
Despite taking first and second, the Bahraini women could only come away with the team silver medal. They had a com- bined time of 7:56:22, as their third athlete, Desi Jisa Mokonin, claimed sixth amongst the women in 2:47:43. Poland won the gold in a combined time of 7:50:21, with their athletes placing third through fifth, individually.
Lithuania came third amongst the teams. Following the race, the athletes were presented their respective medals in an awarding ceremony attended by CISM officials.
The countries being represented at the event included Bahrain, Saudi Arabia, Germany, Belgium, Colombia, Ecuador, Spain, France, Guinea, Lithuania, Morocco, the Netherlands, Poland, Sweden, Tunisia, Slovenia and hosts Peru.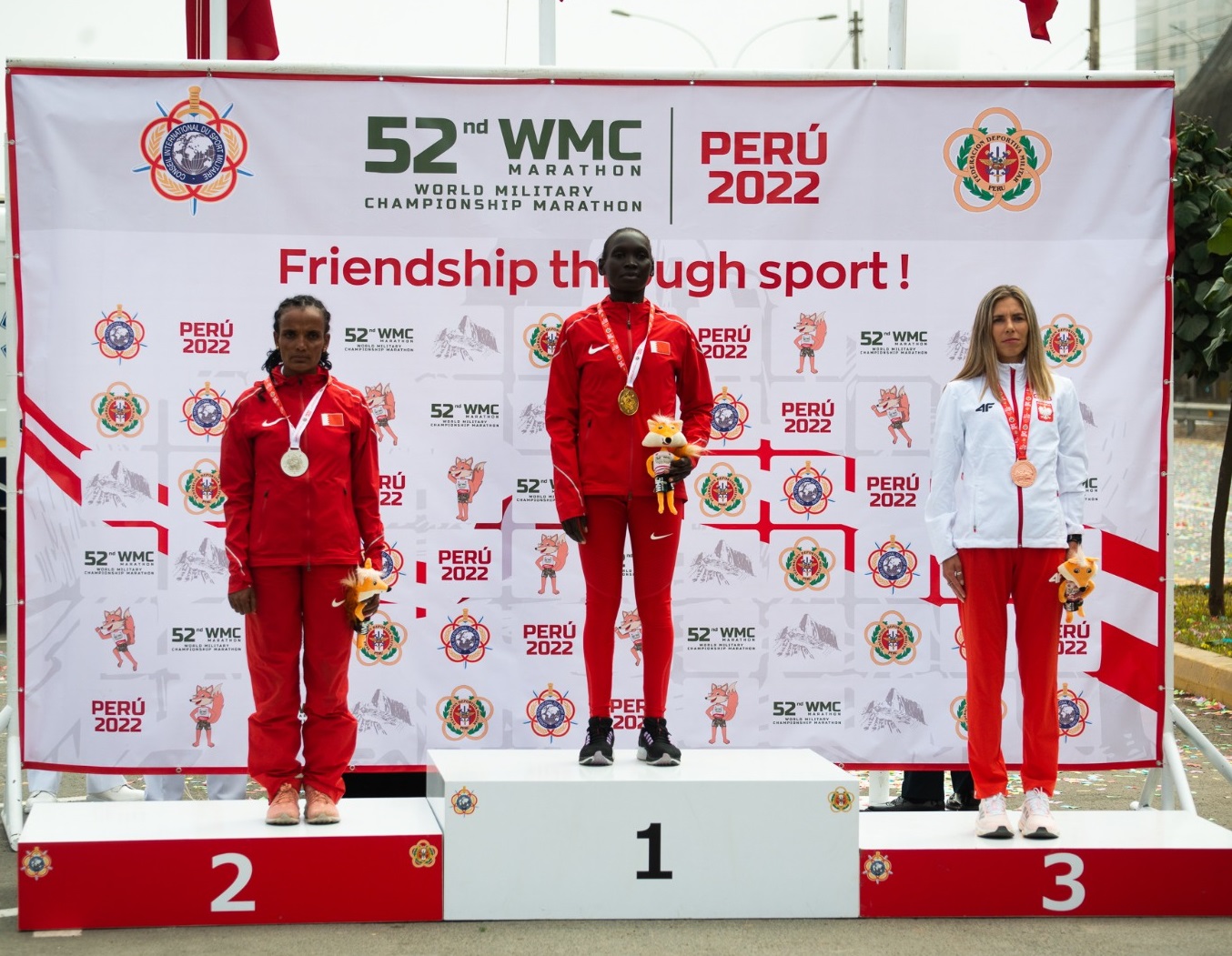 Bahrainis Eunice Chebichii Chumba, centre, and Shitaye Eshete, left, with their individual medals from the women's race