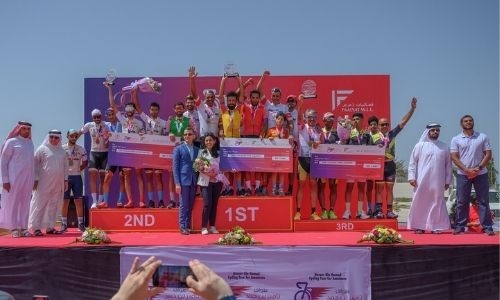 Ali Hassan Jawad clinches Nasser bin Hamad Cycling Tour title
TDT | Manama
The Daily Tribune – www.newsofbahrain.com
Ali Hassan Jawad won the first Nasser bin Hamad Cycling Tour for Amateur Cyclists, while Jeffrey Dibato came first in the individual race, and Jassim Al Keshi finished second. Third place went to Hassan Aqeel Thamer. Elias Mohammed topped the podium in the third stage, and Hussain Mohammed was second, while Mousa Al Qursh came third.
In the teams' results, Bike Zone topped the general standing, followed by Bahrain Giant and Classic Bike respectively. Saber Mohammed clinched the white jersey, Jassim Mohammed the blue jersey, Hussain Al Majed the green jersey, and Abdullah Ali the red jersey. Mahdi Hassan was honoured for being the youngest cyclist in the race.
HH Shaikh Nasser bin Hamad Al Khalifa, Representative of HM the King for Humanitarian Works and Youth Affairs followed the conclusion of the event in the presence of HH Shaikh Salman bin Mohammed Al Khalifa, Vice President of the General Sports Authority President of Bahrain Combat Sports Council and Dr Abdulrahman Askar, CEO of the General Sports Authority and Shaikh Khalid bin Hamad bin Ahmed Al Khalifa, President of Bahrain Cycling Association.
HH Shaikh Nasser was keen to encourage the cyclists in the final stage which featured wide participation. On this occasion, HH Shaikh Nasser affirmed that the Tour comes in line with the efforts to support youth and encourage them to practice this sport.
He pointed out that several goals were met by the Tour. "The cycling sport is a source of inspiration for young Bahraini people and help them to adopt a healthy lifestyle," HH Shaikh Nasser added, praising the efforts exerted by Bahrain Cycling Association under the presidency of Shaikh Khalid bin Hamad bin Ahmed Al Khalifa as well as the Organising Committee to make the event a huge success.