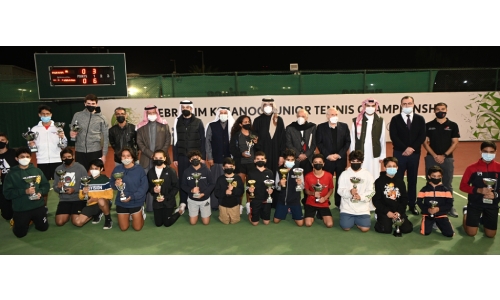 Eira, Rohan claim juniors' tennis titles
TDT | Manama
The Daily Tribune – www.newsofbahrain.com
Eira Corral and Rohan Mukherjee have been crowned champions of their respective singles categories in the ninth EK Kanoo Juniors Open Tennis Championship at Bahrain Tennis Club (BTC).
Eira won the girls' under-16 division after defeating Zaidan Hajjar 6-4, 6-2 in their final, while Rohan overcame a tough challenge from Darion Ali in their title-decider, which he won battling from behind 3-6, 7-5, 13-11.
Following her win, Eira, from the Philippines, said that she is thankful to the tournament organisers and sponsors as well as her BTC personal coaches Hanna and Janji for helping her prepare for the tournament.
Eira also expressed her gratitude to BTC management for letting her train at the club's courts and her mom for supporting her all the way.
"It was not an easy match for me since my opponent was playing really good as well but, I'm really happy to get the championship at the end," Eira commented. Rohan, from India, said that his final could have gone either way.
"I guess I got a bit of luck in my favour," he expressed.
"I am really thankful and happy to see my mom watching me play, as well as my dad and brother.
"I would also like to thank the Bahrain Tennis Federation (BTF) for letting me train with them, especially BTF president Shaikh Abdulaziz bin Mubarak Al Khalifa."
The two finals were followed by the official closing ceremony.
A number of officials were on hand, including His Majesty the King's youth and sports affairs advisor Saleh Isa bin Hindi Al Mannai, BTF president Shaikh Abdulaziz, Ebrahim K Kanoo director Isa Mohamed Kanoo, Ebrahim K Kanoo assistant manager Ammar Bubshait, Ebrahim K Kanoo senior manager marketing Ayman Shehadeh, BTC honorary president Dr Ali Fakhro, BTC president Khamis Al Muqla and BTC member Faisal Al Mosawi.
They awarded Eira, Rohan and the tournament's winners in the other categories.