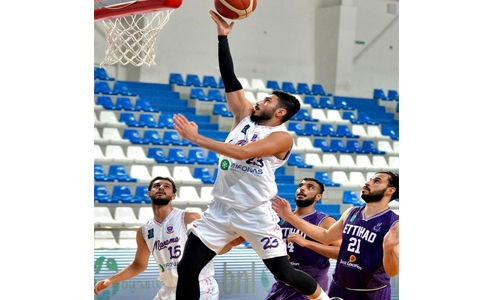 Ahli edge past Hala in overtime
TDT | Manama
The Daily Tribune – www.newsofbahrain.com
Defending champions Al Ahli battled past Al Hala 79-72 in overtime last night in the 2020/2021 Zain Bahrain Basketball League.
Maitham Jameel buried a three-pointer with 16 seconds remaining to ice the win and cap a 7-3 run with which the victors closed out the contest.
Earlier in regulation, Sayed Kadhem Majed made a three-pointer to tie the proceedings at 66-all with a minute to go, and then both he and Ahli captain Mohammed Qurban split charity shots towards the end, setting the stage for the extra session.
With the result, Ahli improved to an 8-2 win-loss record, while Hala dropped to 6-4.
Jameel, who was playing in his first game back after missing several ties due to injury, was a joint-leading scorer for Ahli along with American professional Robert Upshaw.
They each finished with 23 points apiece, while Jameel fired in four three-pointers, grabbed eight rebounds and registered four steals, and Upshaw took down 14 boards while blocking four shots. Qurban and Ahmed Aldurazi added eight points apiece in the low-scoring affair.
For Hala, Majed was their leading man with 20 points.
Canadian Keanau Post had a monster effort of 18 points, 26 rebounds and four blocks, but it was not enough for a Hala win. Ahli took a slim 19-18 lead after the opening period but Hala was able to head into the break up by one, 41-40.
Ahli took control in the third and had a 56- 50 advantage heading into the final canto, but Hala managed to claw their way back and force overtime.
In yesterday's other game, Manama maintained their pristine record with a 111-86 victory over Al Ettihad.
Manama took a 26-13 lead at the end of the first quarter and never looked back.
They roared ahead by as many as 35 and did not allow Ettihad to find their way back into the contest.
The victors enjoyed a balanced attack in the win, with six players finishing in double-figures.
Ammar Mohammed Shabaan and Ali Hussain were the leading scorers, with both coming off the bench. Shabaan had 18 while Hussain scored 17.
Skipper Mohammed Hussain chipped in with 13, Ahmed Salman and Hasan Nowrooz both added 12, while Mohammed Jassim scored 10.
Hassan Albosta had 25 to pace Ettihad. Manama claimed their ninth win with the result, while Ettihad suffered their seventh loss in 10 games.
League action continues on Saturday.