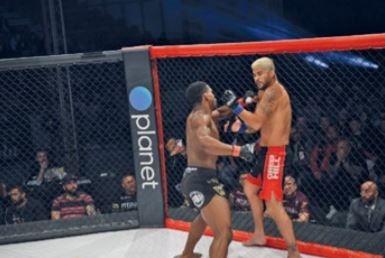 Slovenia debut for BRAVE CF deemed a "massive success"
BRAVE Combat Federation, founded in 2b2016 by His Highness Shaikh Khaled bin Hamad Al Khalifa, has visited last week its 19th country in less than four years of operations. Ljubljana, Slovenia was chosen for BRAVE CF 34, which marked another step towards world domination for the biggest-ever Bahraini brand.
After hosting shows in some of the biggest countries in the world and taking the flag of the Kingdom of Bahrain to the highest of places in the sporting world, BRAVE Combat Federation's first show in the Balkans was deemed a massive success by the local press.
In partnership with WFC, BRAVE CF has been able to empower the local MMA scene by giving the local athletes international exposure as well as bringing top global talent to the country for the first time.
BRAVE CF 34/WFC 24 had athletes from France, Brazil, United States, Russia, Croatia, Bosnia, among others and showed once again the international reach of the fastest-growing MMA promotion in the world, born in the Kingdom of Bahrain and empowering the MMA scene across the globe.
All of these points have been highlighted in Slovenia, where everyone involved with the sport has appreciated the impact that BRAVE CF has had in the local scene for the country.
BRAVE Combat Federation will continue its world tour as it takes the Kingdom's name to Brazil and Sweden next.
BRAVE CF 34/WFC 24 full results:
Heavyweight (For WFC Championship): Luka Podkrajsek def. Viktor Vasic via split decision (29-28, 28-29, 29-28)
Welterweight: Benoit St. Denis def. Ivica Truscek by submission (kneebar) - Round 1
Light Heavyweight: Jakob Nedoh def. Zarko Sedoglavic via KO (punches) - Round 1
Middleweight: Phil Hawes def. Iuri Fraga via TKO (punches) - Round 1
Flyweight: Zach Makovsky def. Velimurad Alkhasov via split decision (30-27, 27-30, 29-28)
Lightweight: Mochamed Machaev def. Matjaz Vicar via unanimous decision (30-26, 30-25, 30-25)
Catchweight (53 kg): Monika Kucinic def. Jennifer Trioreau by unanimous decision (30-23, 30-27, 30-25)
Welterweight: Bojan Kosednar def. Tonci Perusko via TKO (punches) - Round 1
Light Heavyweight: Marko Drmonjic def. Matej Plavec via TKO (leg-kicks) - Round 2