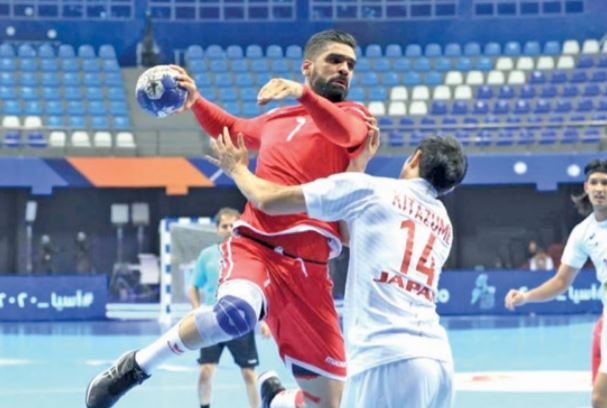 Bahrain suffered a disheartening 23-25 loss to Japan yesterday in the 2020 Asian Men's Handball Championship being held in Kuwait.
The defeat was their first setback in the competition and their first loss from two games in Group One of the ongoing Main Round.
The result puts their semi-final hopes in jeopardy, as they now must win their final fixture of this stage to have any chance of advancing.
The Japanese inched one step closer to securing their berth in the semi-finals.
The takers of the two available spots will be confirmed tomorrow when Bahrain take on Saudi Arabia and Japan face the UAE.
The Emiratis claimed a 23-20 win over Saudi yesterday in the other divisional fixture to keep their semis hopes alive.
Japan's clash with the UAE is scheduled for 2pm at Shaikh Saad Al Abdullah Sports Hall Complex in Kuwait City, to be followed at the same venue by Bahrain facing Saudi at 4pm, Bahrain time.
Wins for Bahrain and Japan would send them both through, but other results would complicate matters and create ties on points in the group standings.
Any tie-breaks will first be decided by points, then head-tohead points, then head-to-head goal difference, head-to-head number of goals scored and finally by goal difference.
In Bahrain's loss yesterday, the nationals held a slim 11-10 lead at the half but their rivals stepped it up in the final 30-minute period.
The Japanese made the most of their opportunities and managed to stave off the Bahrain attack, enough to claim the narrow two-goal victory.
Bahrain captain Hussain Al Sayyad scored four goals to lead his team in the loss. Ali Mirza, Ahmed Fadhul, Ahmed Almaqabi and Mahdi Saad all added three goals each, while scoring twice were Ali Eid and Mohammed Mirza. Rounding out the scorers with a goal apiece were Mohammed Abdulredha, Bilal Askani and Mohammed Habib.
For Japan, Yuto Agarie was their leading scorer with eight goals. Tatsuki Yoshino chipped in with six, while Shinnosuke Tokuda had three.
Qualifying for the semi-finals will also earn the team a place at next year's World Men's