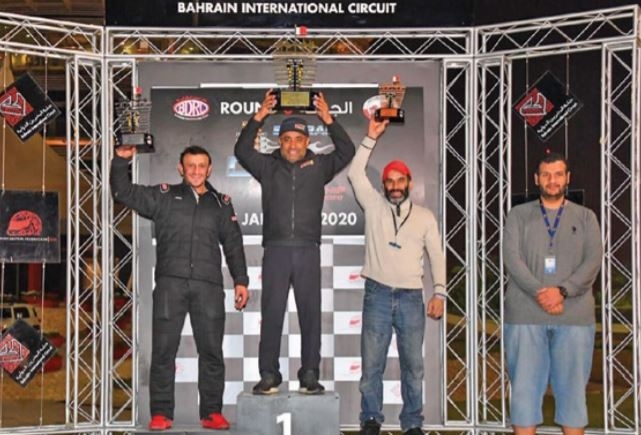 Al Balooshi powers Bahrain1 to victory
Bahrain1 Racing were amongst the victorious teams over the weekend as Bahrain International Circuit (BIC) hosted an exciting the third round in the 2019/2020 Bahrain Drag Racing Championship in Sakhir.
Bahrain1's Khalid Al Balooshi triumphed in the ultra-competitive Pro Mod category to register his second successive win in the region's leading series.
Al Balooshi was part of a field of 132 participants from all over the world who competed in the meeting, organised by BIC in cooperation with the Bahrain Drag Racing Club, Bahrain Motorcycle Club and the Bahrain Motor Federation.
From the entrants, 97 were competing in cars while 35 were on bikes.
Al Balooshi won the Pro Mod class with a 3.772 seconds pass in the final at a speed of 325.20kph.He defeated Saad Al Muran, who had a mark of 3.986s at 305.02kph.Muslim Al Qallaf finished in third place.
In the other competition categories, four Bahrainis managed to claim the top spot on their respective podiums.
Zakariya Alkuwari won in the Outlaw FWD class with a time of 8.307s at 287.20kph. He beat Ahmed Alsaeei in the final, while Ahmed Zaman claimed third place.
Nawaf Almanni won the Outlaw 6-Cylinder category in 4.587s at 253.74kph. He beat Mohammed Haji, who had a red light in the final. Jassim Zaman came away with third.
Hussain Mohammed was another Bahraini to triumph. Contesting the Super Street V8 class, he won his final round with a pass of 4.359s at 271.58kph, narrowly beating Abdulla Alshamsi who had a 4.376s finishing time at 273.69kph. Khalid Saif finished third.
Ali Rabee completed the quartet of local winners, taking first place amongst the Index 10.5 runners. He won the final with a pass of 10.683s at 190.53kph, beating the 10.861s at 191.58kph marks of Ali Abdulla. Abdulla Aldoseri finished in third.
Meanwhile, participants from Saudi Arabia also enjoyed a positive evening, taking victories in five classes.
Abdulwahab Al Mutaib won the Index 9.5 category with a 9.510s time at 217.37kph in his final round.
Al Mutaib beat Fahed Hameed, who had to settle for being a close runner-up with a time of 9.587s at 217.91kph. Yo u s i f K h a m i r i f i n i s h e d third.
Majed Alshwesh followed suit by winning the Index 8.5 division. He had a final pass of 9.130s at 264.34kph, defeating Sayed Hussain Al Hadad who had a red light. Ahmed Alkhan took the third podium step.
The three other wins for Saudi participants were in bikes classes. Fadi Abu Jamus won the Street Fight Bikes ahead of Theeb Alqahtani with Mohammed Al Taitoon finishing third. Khalid Aldoseri was first in the Index 8.5 Bikes class, finishing ahead of Nawaf Al Dosary and Ali Bahram; while Mishari Al Turki triumphed in the Super Street Bikes ahead of Jehad Al Jamal and Bader Alawwad.
Elsewhere on the night, Kuwaitis Fawaz Ebrahiem Ali and Mohammed Alawwad won in the Competition 4.5 cars class and the Pro Bikes, respectively.
Ali finished ahead of Obaid Al Blooshi and Abdulla Alhatem, while Alawwad won with Bader Alawwad in second and Ahmed Belal third.
Following all the action, the winners were awarded their respective trophies in the podium ceremony.
The championship is now headed to the last two rounds of the 2019/2020 season.
The penultimate meeting will be from February 4 to 7, to be followed by the championship finale from February 25 to 28.