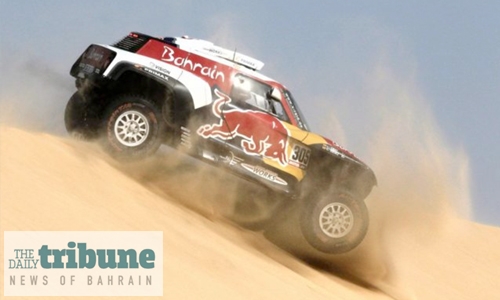 Sainz wins again as 2020 Dakar Rally heads into final two stages
Two-time winner Carlos Sainz of Bahrain JCW X-Raid Team regained control of the 2020 Dakar Rally cars category yesterday after winning the 10th stage. Sainz, competing alongside co-driver Lucas Cruz, completed the 608km leg from Haradh to Shubaytah in first place. It was the third stage victory for Sainz and Cruz in this year's Dakar.
His classification also allowed him to stretch his lead on the general ranking to a comfortable gap with only two stages remaining in the race. Sainz clocked a wining mark of two hours three minutes 43 seconds yesterday as they finished more than three minutes ahead of Jakub Przygonski and Timo Gottschalk of Orlen X-Raid Team.
Giniel de Villiers and Alex Haro Bravo of Toyota Gazoo Racing were third more than four minutes back. Bahrain JCW X-Raid teammates Stephane Peterhansel and Paulo Fiuza were 10th, nearly 12 minutes behind the winners. "It was a good day," said Sainz. "The navigation has been really tricky for the whole rally. "Today we did a correct stage. We had a good speed. We pushed hard. It was a tricky stage with a lot of cutup dunes, but not big dunes – small dunes.
In fact, we had a heavy landing in one of them. We damaged the car a little bit, but everything is so far, so good. "I didn't really think the gap would be so big, but tomorrow is another day and the opposite could happen, so we'll try to keep concentrating. If I get lost like what happened to the others today, or for me yesterday, you never know how it will finish."
Peterhansel added: "Today was not a really good day for us. We started first this morning and we got lost just twenty kilometres before the end of the stage. We turned around eight or 10 minutes before we found the right track. Nasser lost a little bit more, but Carlos and some other drivers were really lucky because they arrived just when we found the right way and then for them it was easy to follow us.
At the end we finished together. "I think that it was really good because Carlos has been leading since the beginning, he is really fast and now he has a gap over Nasser. For the victory for the team it's more comfortable for sure". On the general ranking, Sainz and Cruz now hold an 18-minute lead of current second-placers Al Attiyah and Baumel, while Peterhansel and Fuiza are third 18-and-a-half minutes back.
The penultimate day's action also includes the final super-long stage, at 744km, from Shubaytah to Haradh. Competitors will battle for time over 379km of special stages.