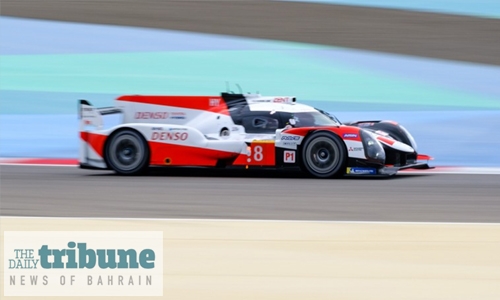 Champions Toyota confident from row two heading into eight-hour battle
Reigning World champions Toyota Gazoo Racing, who triumphed the last time the World Endurance Championship (WEC) raced in Bahrain in 2017, are upbeat ahead of today's Bapco 8 Hours of Bahrain after sealing the second row on the grid. Toyota are a record three-time winners at BIC.
They won in 2013 and 2014 to go with their 2017 triumph – all of which were in six-hour events. They now face an uphill task in their pair of TS050 Hybrids as they start behind front-row sitters Rebellion Racing and Team LNT. "Third is not a bad position for us and it's better than expected," said Kazuki Nakijima, who shares Toyota's no. 8 car with Brendon Hartley and Sebastien Buemi. "It was a good day and for the race we have some confidence now.
I know the other cars are quite fast but it is eight hours so we need to be calm and do our best until the end." Hartley added: "I am really happy with my lap. The car felt very good and we were surprised to be so close to the competition. I have a nice feeling and I think we can fight at the front in the race."
As expected, qualifying was not easy for the two Hybrids as they battled against heavy success handicap, which reduces hybrid and fuel energy allocations per lap. Hartley's fastest lap of the session, one minute 42.986 seconds, was 3.902 seconds slower than the pole position time for WEC's last visit in 2017. Mike Conway and Hartley were at the wheel of the no. 7 and no. 8 respectively for the first flying laps of the session, on new Michelin tyres.
They waited in the pits for a gap in the traffic and took advantage of the clear air on a warm, dry Bahrain evening. Both car crews fought to get the best possible starting slot but put the priority on race performance, choosing not to fit new tyres for the second flying laps in order to save a set for tonight's eight-hour contest. Jose Maria Lopez took over the no. 7 and was set for a quick lap until losing time at turn eight, leaving Nakijima to earn third place for the no. 8.
"I am pretty disappointed with qualifying because I had problems at turn one and eight which basically killed the lap," said Conway. "It wasn't great but it's good to see we were pretty close to the non-hybrid cars over one lap." Lopez commented: "Normally we should have been faster than the sister car considering the handicap but we were behind. The position in qualifying doesn't matter so much; if we feel confident in the car we can challenge."