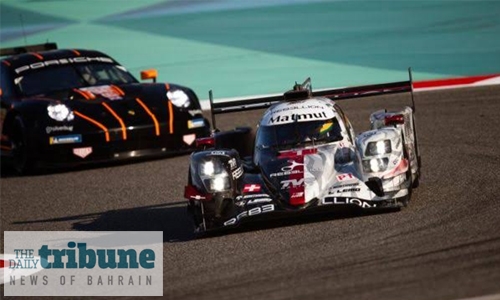 Rebellion Racing stormed to pole position yesterday evening for the FIA WEC Bapco 8 Hours of Bahrain, taking place today at Bahrain International Circuit (BIC) in Sakhir. The trio of Bruno Senna, Gustavo Menezes and Norman Nato steered their no. 1 Gibson-powered Rebellion R13 to the top of the Qualifying timesheet with a best average lap time of one minute 42.979 seconds. In the World Endurance Championship's (WEC) Qualifying format, the average time of each car's two drivers who participated in the session determines their position on the start grid.
Team LNT claimed the other front row place after going just 0.144 seconds behind in their no. 5 AER-powered Ginetta G60- LT-P1, driven by Charles Robertson, Ben Hanley and Jordan King. Toyota Gazoo Racing's pair of TS050 Hybrids followed in third and fourth. Their no. 8 car of Kazuki Nakijima, Sebastien Buemi and Brendon Hartley were 0.518s off the pace, while their sister team in the no. 7 car featuring Jose Maria Lopez, Mike Conway and Kamui Kobayashi were 0.863s back.
Rounding out the top five was Team LNT's other Ginetta -- the no. 6 car of Guy Smith, Chris Dyson and Michael Simpson, who were 0.908s from the leaders' best average lap. Each of the top five were competing in the WEC's top-tier LMP1 class. Taking the leading starting position in the LMP2 category were United Autosports' Philip Hanson, Felipe Albuquerque and Paul Di Resta, who drove their no. 22 Gibson-powered Oreca 07 to a fastest average lap of 1:45.357. Jackie Chan DC Racing's Ho-Pin Tung, Gabriel Aubry and Will Stevens followed in their no. 37 Oreca 07, while G -Drive Racing 's Jean-Eric Vergne, Roman Rusinov and Job Van Uiitert were third in their no. 26 Gibon-powered Aurus 01.
The Porsche GT Team of Richard Lietz and Gianmaria Bruni captured pole in the LMGTE Pro class. Driving their no. 91 Porsche 911 RSR-19, the pair clocked a fastest lap of 1:55.485. Their sister squad of Kevin Estre and Michael Christensen followed in the no. 92 car with a best lap just 0.060 seconds from the leaders. AF Corse's James Calado and Alessandro Pier Guidi in the no. 51 Ferrari 488 GTE EVO were third.
In the LMGTE Am category, Team Project 1's no. 57 Porsche 911 RSR took their class' leading starting position with an average lap time of 1:57.602. The team features Ben Keating, Larry ten Voorde and Jeroen Bleekemolen. They were ahead of AF Corse's no. 54 Ferrari 488 GTE Evo driven by Thomas Flohr, Francesco Castellacci and Giancarlo Fisichella and the Dempsey-Proton Racing no. 88 Porsche 911 RSR with Khaled Al Qubaisil, Thomas Preining and Adrien De Leener behind the wheel.
Earlier yesterday, Toyota Gazoo Racing were fastest in the weekend's third Free Practice in what was the first-ever wet session of the WEC at BIC. Buemi, Nakijima and Hartley steered their no. 8 Hybrid to a fastest lap of 1:44.285. It was the first time Toyota set the pace this weekend in the WEC's three practices held ahead of today's big eight-hour race.
BIC National Day Festival
There continues to be plenty for the whole family to enjoy today at BIC's vending area, located behind the Main Grandstand, in night two of the BIC National Day Festival. One of the major attractions will be a classic car show in the marquee located near the BIC Welcome Centre.
There will also be kids' entertainment, cultural shows, a BDF fly-pass, a National Guard parachute display, roaming performers, music from the Ministry of Interior Police Band, and the biggest fireworks display in the Kingdom of Bahrain, which will start at 7pm. The weekend's second of four nightly concerts also takes place tonight, featuring Mohammed Al Salem, which is scheduled for an 8.30pm start.
The BIC National Day Festival is being held with the support of His Royal Highness Prince Salman bin Hamad Al Khalifa, Crown Prince, Deputy Supreme Commander and First Deputy Prime Minister. All this plus the Open Paddock experience can be enjoyed at BIC all day today. Tickets are just BD1 and they can be purchased at the gate. For further information on the FIA WEC Bapco 8 Hours of Bahrain and the BIC National Day Festival, visit BIC's official website www.bahraingp. com or call the BIC Hotline on +973-17-450000.
Also, follow BIC's official social media accounts on Facebook (facebook. com/OfficialBahrainInternationalCircuit), Twitter (@ BAH_Int_Circuit), Instagram (instagram.com/bah_int_circuit) and YouTube (youtube. com/ bahrainbic) for regular updates.