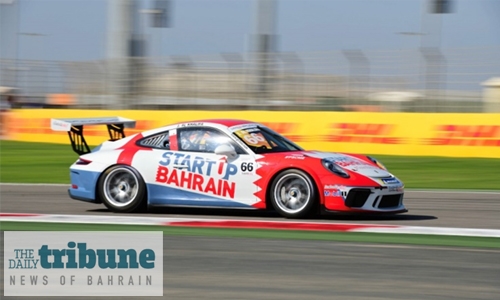 Koehler makes fine start to season-opening round in Porsche Sprint Challenge ME
Leon Koehler enjoyed a fine start to the opening round of the 2019/2020 Porsche Sprint Challenge Middle East after grabbing pole position yesterday for the season's first race, happening in support of the FIA WEC Bapco 8 Hours of Bahrain.
After topping the practice times earlier in the day, Koehler took first place once again in the first 30-minute qualifying session with a best lap of two minutes 02.271 seconds.
He was 0.845 seconds ahead of fellow-German Julian Hanses, while Berkay Besler of Turley came third 0.878s back. Al three were competing in the Pro class.
Leading the ProAm was Dutch ace Jesse Van Kuijk with a fastest lap of 2:03.827, while Bahrain's Shaikh Jaber Al Khalifa was ahead in the Am class with a lap of 2:06.123.
The Porsche competitors get back on track today with the second qualifying at 1.15pm. The first of this weekend's three races will then be held the same day starting at 3.50pm.
During practice earlier yesterday, Koehler was quickest with a best lap time of 2:03.289 in 10 laps of work. Saul Hack of South Africa followed 0.327 seconds back, while Besler came third 0.438s adrift.