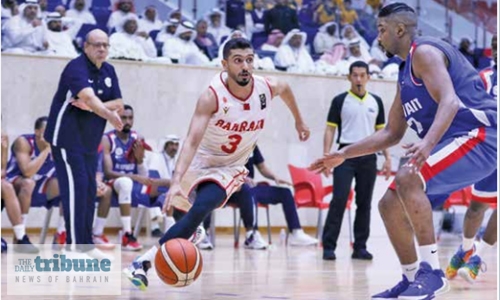 Bahrain fall to Kuwait in last second
Bahrain suffered their second successive loss in the Gulf Basketball Association (GBA) Men's National Teams' Championship 2019 last night after Rashed Alrabah made a last second lay-up to lift hosts Kuwait to a 65-63 victory. It was a dream ending for the home town Kuwaitis. Turki Alshemmari made the game-winning steal with four seconds remaining and then passed off to Alrabah for the decisive basket.
The result earned Kuwait the number one seed to end the tournament's preliminary round while Bahrain had to settle for seed number three. The Kuwaitis finished with a 3-1 win-loss record while Bahrain split their four games to end with two wins and two losses. In yesterday's other fixture on the final day of the preliminaries, the UAE beat Qatar 85-82 to grab the last spot in the semi-finals as the fourth seeds.
The Emiratis finished with a 2-2 win-loss record, while the Qataris stayed winless in four games. They were eliminated from further contention. Saudi Arabia, who were idle yesterday, completed this stage also with a 3-1 card but dropped to second following Kuwait's win. Bahrain now take on Saudi in the semi-finals, while the Kuwaitis meet the UAE in the other final four clash. The semi-finals are scheduled to be played tomorrow, followed by the bronze and gold medal games on Sunday.
Bahrain needed several minutes to get in their groove against the Kuwaitis, but when they did were able to end the first period tied 16-apiece. The Bahrainis then finished the first half strong and took a slim 34-31 advantage into the break. But the Kuwaitis took back control in the third and led 53- 45 with heading into the last canto. The Bahrainis did well to fight back into the game and nearly came away with the win, but were unlucky in the end as the Kuwaitis stole the result in dramatic fashion.
Ahmed Aziz had 14 points to spearhead Bahrain but he also had six turnovers, while CJ Giles and Ahmed Salman had 12 apiece. Subah Hussain added 11 in the loss. Abdullah Alshammari paced the Kuwaitis with 14 and 14 rebounds, while Alrabah chipped in with 13 in the win. Meanwhile, in the UAE's victory, Qais Alshehabi and Rashed Alzaabi scored 21 points apiece while talal Salem Alnuaimi added 14 off the bench.
Abdulrahman Saad was the top man for Qatar with 30 points, while Emir Mujkic scored 15 as a substitute. The Emiratis controlled the game in the first half but Qatar managed to take the lead heading into the final canto. The UAE bounced back and did well to stave off a late challenge from their rivals en route to securing the win. Today is a rest day in the competition.