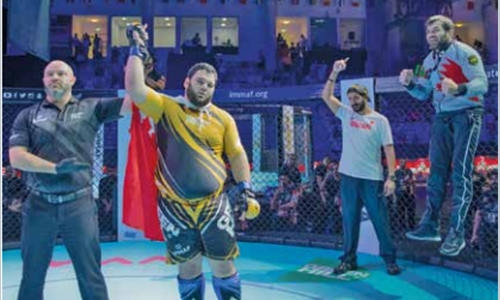 Team Bahrain gets first gold medal
Bahrain's run of good results continued through to Day 4 of 2019 IMMAF World Championships, as the Kingdom was able to get its first gold medal through Murad Guseinov, who became the Junior Welterweight world champion with yet another dominant performance. Team Bahrain was able to progress through to five more finals, which will be held this Saturday at the Khalifa Sports City Arena, in Isa Town.
Women's Featherweight phenom Sabrina Sousa piled her way through the final of her weight class, by beating Finland's Jenni Kivioja. She will face Jasmine Favero, from Italy, in the final. Brena Cardozo won a bronze medal in the Women's Bantamweight division. Pasha Karkhachaev was made to work for his first victory in the World Championships, as he beat Shamsutdin Makhmudov, from Russia, and made his way to the final and towards his second-straight gold medal in the Super Heavyweight final match.
Pasha will take on Rassul Khatayev, from Kazakhstan in his second straight world final. Another Bahrain appearance in the final will be that of Magomed Gadzhiiasulov, in the Light Heavyweight division, who beat Dima Ruzhtskyi from Ukraine, and will now face his countryman Murtaza Talha Ali, who beat Serik Abirov, from Kazakhstan.
In the Welterweight division, two Bahraini fighters will also face off, as two more medals are guaranteed. Zagid Gaidarov and Ramazan Gitinov both won their respective fights and will fight with world gold on the line.