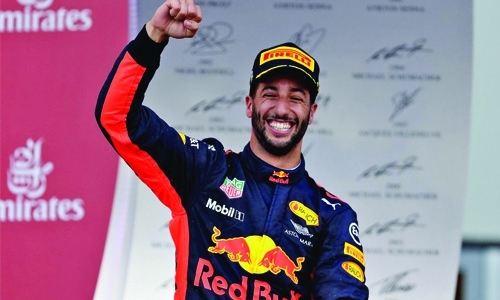 Ricciardo: No Ferrari pre-contract agreement
Baku : Daniel Ricciardo has dismissed media speculation of a pre-agreement with Ferrari that could see him switch from Red Bull to the Italian Formula One team next season.
The Australian has only talked about his future with Red Bull, he told reporters in Baku yesterday ahead of Sunday's Azerbaijan Grand Prix.
"I'm aware of other reports, but there hasn't been anything else, so they're not true," said Ricciardo, winner in China two weeks ago and of last year's chaotic Baku race.
Asked specifically about reports of a pre-agreement with Ferrari for an exclusive negotiating period, the 28-year-old replied: "That's not true".
He is out of contract at the end of the season, as is Kimi Raikkonen, who partners four-times world champion Sebastian Vettel — Ricciardo's previous Red Bull team mate — at Ferrari.
Ricciardo's next move is a hot topic in the paddock, with the Australian showing signs of "contract fatigue" in the face of constant questions.
He has also been linked to Mercedes as a possible team mate for Britain's four-times world champion Lewis Hamilton.
Championship dream
The Perth-born driver said he would not accept a subservient role at any team and expected clarity and fairness.
Raikkonen, the 2007 world champion, has played a back-up role to Vettel at Ferrari, who faced criticism after China for a strategy that favoured the German over the Finn.
"I wouldn't want to go somewhere where I didn't feel I had a chance," Ricciardo said.
"At the moment what I'm chasing is to try and be world champion. That's my goal, my dream, something I really believe I'm capable of.
"So if someone said 'we'll let you come here but you can't do this', that's not an attractive option to me. At Red Bull there's always been really good clarity and I would say fairness, since 2014, since I've been there."
Being in a team with Hamilton would be a "good challenge", he added.
Asked whether he was curious to see whether the "grass was greener" elsewhere, Ricciardo said his decision would be based on facts.
"I wouldn't go somewhere else just for a change," he said, recognizing also that he felt lingering loyalty to Red Bull who have said they want a decision by the August break.
"I guess I don't really fear not having a seat next year so I don't feel that I need to sign something tomorrow or I will have nothing," Ricciardo said.
"So I guess for that reason I feel like I can see until the summer what's happening. If nothing has happened since then...if it's only then Red Bull, then that's where I am."