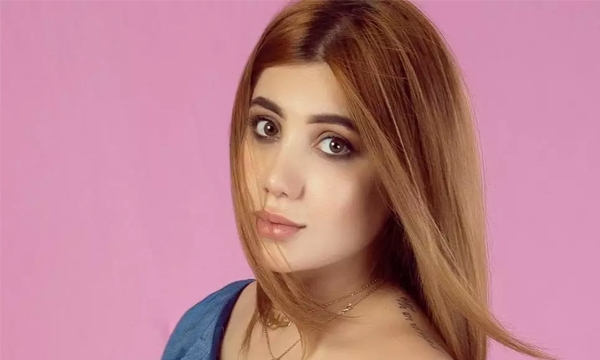 Tara Fares murdered for daring to be female in Baghdad
A grainy video showed a motorcyclist fatally pumping bullets into the car of 22-year-old Iraqi model and social media star Tara Fares last week. This horrifying attack was the latest in a succession of murders of prominent Iraqi women; including others from the beauty industry, Basra activist Suad AlAli, and the killings of protesters by sectarian militants.
Fares gained 2.7 million Instagram followers simply by daring to be an ordinary young woman, enjoying the innocent feminine pleasures of fashion, cosmetics and shopping. She received multiple death threats from militant psychopaths, for whom the sight of an articulate and beautiful young lady aroused the desire to kill. Tara initially fled abroad, before returning, first to Irbil and then to Baghdad, determined to pursue her modeling career.
From Iraq to Afghanistan, Yemen, Nigeria, Myanmar and Pakistan, women are always the first victims of militancy. After 2003, as Shiite militants took control of once-cosmopolitan cities like Basra, Iraqi women venturing outside were physically attacked or sprayed with acid. Under Daesh, women were similarly brutalized into submission, while Yazidi women faced extermination and sexual slavery. Today, displaced Iraqi women are the targets of sexual attack by militants controlling vast refugee camps. Meanwhile, a new Human Rights Watch report details widespread campaigns of forced disappearances by sectarian militants from Al-Hashd Al-Shaabi.
Thousands of detainees are reportedly being held in illegal detention camps in localities like Jurf Al-Sakhar, a town that the Hezbollah Brigades purged of its Sunni inhabitants and occupied for themselves. Politicians from Salahuddin, Anbar and Nineveh have long lists of citizens seized by militants and never seen again. It is estimated that between 250,000 and one million citizens have disappeared in Iraq, which means it has the highest number of missing people in the world.
With her striking appearance and distinctive mass of blonde hair, Palestinian activist Ahed Tamimi should be enjoying the life of an ordinary teenager. Instead, she endured jail for challenging the Israeli forces of occupation, having witnessed family members being shot, detained and harassed. With the world stubbornly ignoring the ongoing theft of Palestinian land — including their capital, Jerusalem — courageous women like Tamimi are galvanizing the Palestinian cause, inspiring a younger generation to resolutely defend their rights.
Never have we needed the UN more to address such colossal global injustices. Yet never has this institution felt less relevant. Last week, the media mostly ignored the UN General Assembly sessions in favor of covering Christine Blasey Ford's testimony before the US Senate about her alleged assault at the hands of Trump's candidate for the Supreme Court. We can scarcely imagine the courage required for Ford to turn her life upside down and bear witness against these powerful figures. Ford's testimony was a watershed moment and an inspiration to thousands of blameless women who have endured similar appalling experiences.
Having tormented Iraqi women and men alike, popular support has crumbled for the Al-Hashd militant coalition, including among its Shiite support base. Al-Hashd forces performed underwhelmingly in this year's elections (which, according to the Iraqi Constitution, they should have been banned from participating in), and they faced attacks against their offices by furious Shiite protesters. However, Iran managed to appropriate these demonstrations and redirect anger against Prime Minister Haider Abadi, before ruthlessly dismantling Abadi's electoral coalition by enticing his allies over to its side.
Al Hashd leaders, meanwhile, manipulated the parliament speaker vote to ensure their man, Mohammed Al-Halbousi, got the job, while playing the Kurds off against each other to influence the choice of president. Muqtada Al-Sadr was then summoned to Beirut to agree with Hezbollah's Hassan Nasrallah and Quds Force's Qassem Soleimani regarding Iran's choice of Adel Abdul-Mahdi for the prime minister's role. If Al-Hashd's power grab succeeds, we will witness many more attacks against women who dress as they choose or express political opinions, along with intensified abuses against Sunnis, minorities and moderates.
Mike Pompeo and John Bolton's extravagant threats of retaliation if Iranian proxies struck US interests in Iraq were undermined by the panicked closure of the US consulate in Basra, just weeks after Iranian rockets targeted the vicinity. This will have sent a clear message to Tehran about how the US actually responds to provocations — by cutting and running.
Sanctions are having a brutal impact on ordinary Iranians, but Tehran must be made to understand that its seditious, destabilizing actions in the region have consequences. Trump has made it abundantly clear that he has little stomach for lengthy and complex military entanglements. If Iran's proxies can so easily compel the US to abandon its Basra consulate, they may feel emboldened to see what they can achieve by following up on their threats to strike American troops in Iraq and Syria.
Tehran's theocratic agenda is not just about regional political dominance. The ayatollahs also want to impose their unnatural and regressive social model, which first infected the region after Ruhollah Khomeini's 1979 revolution, and is distinguished by its hatred of women. This toxic Khomeinist ideology is today being pumped out of religious and social institutions from Beirut to Baghdad and Sanaa. The malign process of Hezbollahization cannot not be defeated by sanctions or empty American threats. Iran and other tyrants, fascists and extremists must be defeated by women and men standing up to defend their way of life in the face of those seeking to terrorize them into humiliated silence.
Our dangerous times sorely need the inspiration of courageous women like Nadia Murad, Tamimi, Ford and Malala Yousafzai, along with Iranian human rights lawyers who endure torture for steadfastly defending their clients, and Iraqi women journalists who risk death to tell the truth. And Fares, who was murdered for simply daring to be female.