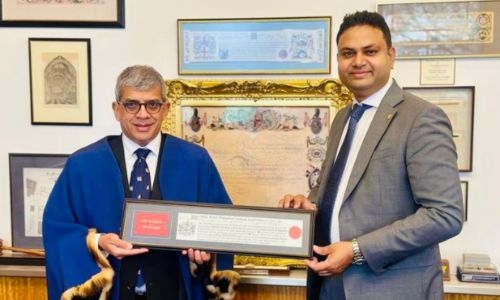 Dr Abdul Basit Syed Frsa honoured with prestigious 'Freedom of the City of London' Award
Agencies | London
The Daily Tribune – www.newsofbahrain.com
Founder of the International NGO 'World Humanitarian Drive,' an organisation with 'Special Consultative Status' with United Nations, Dr Abdul Basit Syed Frsa has been conferred with 'Freedom of the City of London' title for his outstanding contribution in promoting United Kingdom & India relations and for leaving a mark globally on the education, humanitarianism and trade sector.
On Monday, September 18, 2023, a ceremony held in the Chamberlain's Court at Guildhall in London presented Dr. Abdul Basit Syed Frsa with this great honour.
The custom of awarding the title is thought to have begun in the year 1237, making it one of the oldest British capital traditions still in use today.
Today, the title of 'Freeman' is primarily symbolic and carries with it some responsibilities related to the Lord Mayor's position.
Dr. Abdul Basit Syed firmly believes that he and other international humanitarians like him are the torchbearers for a civilised society, and he continuously organises peace and educational programs through his organisation, World Humanitarian Day (WHD), such as Trade for Peace, The Science Bazaar, and World Moral Day.
Dr. Abdul Basit Syed's Science Bazaar program, held in Chennai, India, on March 6 and 7, 2020, featured 834 new inventions and tools to meet the needs of the globe's "Differently Abled" individuals.
It also showcased India's distinctive innovations to the rest of the world.
By collaborating with world leaders, dignified royalties, and well-known speakers from more than 25 countries to support India's vision for sustainable development goals, his initiative "Trade 4 Peace" focuses on Developing Nations like India in order to promote the integration of the Global Economy and Businesses as a Pathway for Peace.
Patrons of the WHD organisation include, Minister of State for Crime, Policing, and Fire in the UK, RT. Hon. Chris Philp.
The Fifth President of Trinidad and Tobago is Anthony Carmona SC ORTT.
HE Former Luxembourg Parliament President Erna Hennicot-Schoepges. According to Dr. Abdul Basit Syed, nations like India, led by its government, will be the future leaders in preserving the environment by promoting a green revolution that boosts employment, reduces emissions, and aims to slow the increase in global temperatures.
Historical personalities like Queen Elizabeth II, Florence Nightingale, Winston Churchill, Jawaharlal Nehru, and Margaret Thatcher, as well as legends like Professor Stephen Hawking and Morgan Freeman and modern statesmen like John Kerry, all share the legacy of this Freeman Title.
Chamberlain gave out the Freedom Certificate.
The Chamberlain of the City of London gave the Freedom Certificate.
In London's Guildhall, the Chamberlain's Court is where freedom celebrations take place.
Dr. Abdul Basit Syed was gratefully commended on his great accomplishment by Ramesh Awasthi, Chairman of National Media Club of Bharat, during this award ceremony.
Beadle, who was dressed in a top hat and frock coat, led Dr. Abdul Basit Syed to the court.
Chamberlain conducts the unusual ceremony while donning the customary ermine-trimmed robe, while the Clerk of the Court wears a silk gown.
Dr. Abdul Basit Syed was asked to sign the Freeman's Declaration Book and read the 'Declaration of a Freeman.'