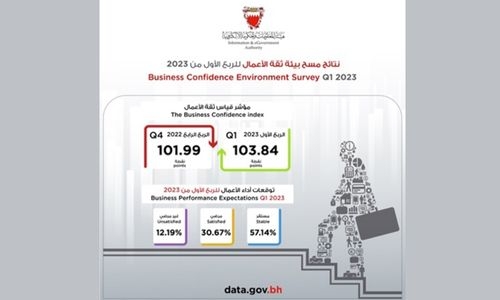 Businesses confident for a stable Q1, says iGA survey
TDT | Manama
The Daily Tribune – www.newsofbahrain.com
Businesses operating in the Kingdom has expressed their confidence in the continued economic stability of the Kingdom in a recent survey.
The survey, conducted by the Economic Statistics Directorate at Information & eGovernment Authority (iGA), revealed that the majority of investors tracked by the Business Confidence Index are optimistic about the country's business and economic environment in the first quarter of 2023.
While the rate is slightly lower than the previous quarter, more than 94% of respondents still expect stability in the coming months.
The survey has covered not only large enterprises, but also micro, small, and medium-sized businesses.
The results revealed that almost half of these companies (49.35%) expect to see stable business performance, while 44.66% are anticipating an improvement.
Sequentially, BCI increased 1.85 points or 1.81% to reach 103.84 points from 101.99 points in Q4, 2022.
But, when compared to the same period in 2022, the BCI has risen by 8.38 points.
The survey found that 87.81% of businesses experienced some level of economic stability to optimistic performance during Q1 of 2023, with 57.14% reporting stability in their performance, and 30.67% experiencing satisfactory performance.
However, 12.19% of respondents were dissatisfied with their business performance during Q1 of 2023.
The scope of the survey is also noteworthy, as it covered all active establishments registered at the Ministry of Industry, Commerce (MOIC), as well as enterprises licensed by the Central Bank of Bahrain.