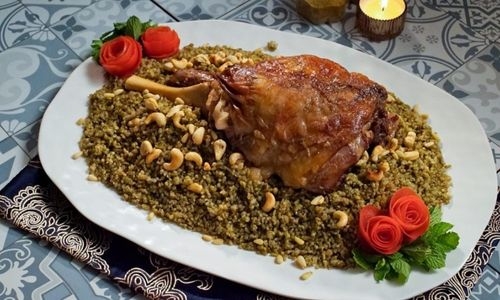 Braised Lamb Shank with Freekeh - Special Recipe by Chef Mohamed Abdou - Eats and Treats by Tania Rebello
TDT | Manama
The Daily Tribune – www.newsofbahrain.com
Ingredients
Lamb shank 400 gms
Red onion 100 gms
Tomato 100 gms
Mix spices 10 gms
Carrot 75 gms
Green peas 75 gms
Freekeh 200 gms
Salt 4 gms
Black pepper 3 gms
Bay leaves 1 gm
Cinnamon sticks 10 gms
Sweet chili paste Turkish 20 gms
Raisin golden 10 gms
Cashewnuts 20 gms
Olive oil 100 ml
Vegetable oil 50 ml
Chicken stock 1 ½ ltr
Instructions
• Sear the lamb shank in a pot on medium-low heat until it is browned on all sides. Remove from the pot and set aside.
• In the same pot start sautéing the onion and tomato until onions turn golden color, add the salt, black pepper, mix spices, bay leaves and the sweet chili paste.
• Return the lamb shank back to the pot, mix well with the ingredients and add 1ltr of the chicken stock.
• Preheat the oven to 180 C and cook the lamb shank for 1 ½ hour.
• Soak the freekeh in hot water for 1 hour.
• In small pan over medium heat, heat the vegetable oil add the cashewnuts and raisins and fry, stirring for 3 or 4 minutes or until golden, set them aside.
• In a deep pot and using the oil used to fry the nuts, cook the onion for 5 minutes or until they become light brown.
Add the carrot and green peas, and the freekeh, and remaining salt and pepper.
Add the cinnamon sticks to the pot, and stir- fry for 3 minutes, add the remaining chicken stock and bring to a boil over medium- high heat.
Stir, reduce the heat to low, cover and cook for 20 minutes or until the freekeh is fluffy and tender.
Uncover and stir a couple times to prevent the freekeh from sticking to the pot.
• Serve on a shallow plate with the lamb shank over the freekeh and top with fried cashewnuts and raisins.