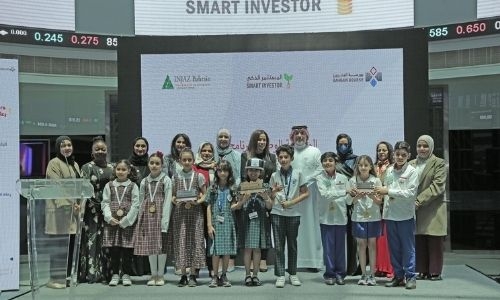 Bahrain Bourse, INJAZ Bahrain conclude Smart Investor Programme
TDT | Manama
The Daily Tribune – www.newsofbahrain.com
The Smart Investor Programme, organized by Bahrain Bourse in collaboration with INJAZ Bahrain, was concluded at Bahrain Bourse's premises. Modern Knowledge School won first place, Mariam Bint Omran Primary Girls School Second place and Al Hekma International School Third Place. Winners of the "Best Video" from stage 1 are A'ali Primary Boys Schools, Al Farabi Primary Boys School and Al Mustaqbal Primary Girls School.
The ceremony was in presence of the Chief Executive Officer of Bahrain Bourse and Shaikha Hessa Bint Khalifa Al Khalifa, Chairperson of INJAZ Bahrain alongside INJAZ Bahrain officials, Latifa Bunudha, Assistant Undersecretary for Education and Lulwa Al Muhana, Director of Directorate of Licensing and Follow up of Private Schools at the Ministry of Education, school coordinators and students. This year's competition included a 3-phase selection process for more than 34 teams.
The first phase included a short-video clip submission demonstrating concepts learned during the programme. The second phase included interactive activities with a focus on Bahrain Bourse and stock market concepts.
The selection process concluded with presentations of the programme's participants on topics related to financial planning. The Smart Investor programme this year had the participation of around 7,000 students. Shaikh Khalifa Bin Ebrahim Al Khalifa, Chief Executive Officer of Bahrain Bourse, commented: "At Bahrain Bourse, we take pride in supporting this initiative to raise awareness on the vital role that stock exchanges play in building the milestones of financial literacy and stability for students at a young age.
By enabling students to develop their understanding of financial markets, exchanges can play a vital role to promote financial education and investor protection in the long term future." Shaikha Hessa said: With the success of the programme's execution as well as its reach, many students have found an impactful value-driven opportunity to learn real-world scenarios, increase their entrepreneurial mindset, and financial literacy with the guidance of experts in the field."