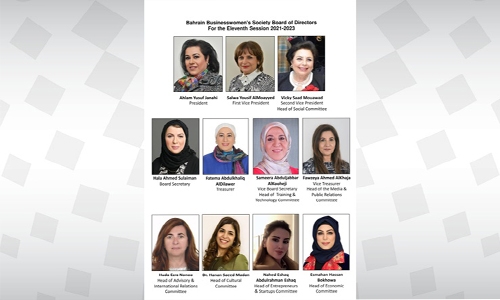 Ahlam Yousuf Janahi named BBS Prez
TDT | Manama
The Daily Tribune – www.newsofbahrain.com
Ahlam Yousuf Janahi was named the president of the newly elected Bahraini Businesswomen Society board of directors, which now has seven new members.
A General Assembly held at the premises of BBS in Mahooz elected the new board members.
The society held its elections on February 8th and 9th.
BBS statement said, "The General Assembly was held, in a friendly atmosphere with positive and active participation." Votes cast in the elections reached 69, and the number of valid votes reached 68.
The votes
Ahlam Yousuf Janahi received 57 votes, Fatema AbdulKhaliq AlDilawer 55 votes, Vicky Saad Mouawad 55 votes, Salwa Yousif AlMoayyed 51 votes, Dr Hanan Saeed Madan 48 votes, Hala Ahmed Sulaiman 46 votes, Sameera Abduljabber AlKooheji 44 votes, Fawzeya Ahmed AlKhaja 43 votes, Nahed Eshaq AbdulRahman Eshaq 40 votes, Esmahan Hassan Bokhowa 39 votes, Shaikha Fajr bint Ali bin Rashid Al Khalifa 38 votes, and Ambassador Huda Ezra Nonoo 38 votes. Leading to a tie in the last two votes, the elections' supervising committee decided to hold by-elections on February 9.
However, Ambassador Huda Ezra Nonoo stepped down and settled for a first reserve member on the BBS Board. Later, Shaikha Fajer Al Khalifa resigned, and after the acceptance of her resignation by board members, Nonoo came on board as the 11th board member.
The new board of directors now represents 70% of the elected board. They held their first meeting headed by the oldest member according to the law.
The elections are held under the supervision of the concerned authorities represented by the Ministry of Labour and Social Affairs.
The elections committee overseeing the elections included BBS society members Maryam Al Amir, Alia Al Amir, Badriya AbdulRahman and Amal Janahi.