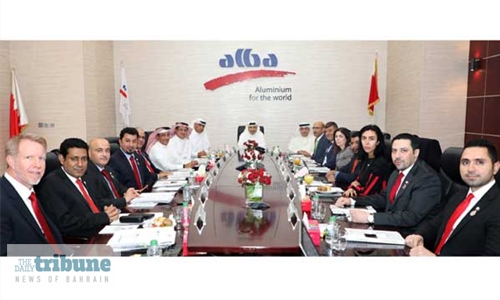 Alba eyes product expansion, US market
Aluminium Bahrain (Alba) is actively seeking to expand its products' portfolio and increase sales with a major emphasis on the US market, said Alba Chairman yesterday. Shaikh Daij Bin Salman Bin Daij Al Khalifa, during Alba's fourth quarterly Board meeting, said the company aims to have a strong finish in 2019, with production to top 1.35 million metric tonnes for the first time in Alba's history, thanks to the ramp-up of Line 6. Alba also "intends to achieve 15 million working-hours without Lost Time Injury by yearend 2019."
On the Line 6 Expansion project, Shaikh Daij said the project is a game-changer and marks "a turning point for Alba and a new era of growth and prosperity for the Kingdom of Bahrain". His Majesty's official inauguration of Alba's mega-project on 24 November 2019 places Alba in the lead within the aluminium industry with its transformation - making it the world's largest smelter ex-China.
Line 6 was inaugurated by His Majesty King Hamad Bin Isa Al Khalifa accompanied by His Royal Highness Prince Salman bin Hamad Al Khalifa, the Crown Prince, First Deputy Prime Minister and Deputy Supreme Commander. Alba board approved its 2020 Annual Operating Plan and Q3 2019 financial statements.
Updates were also given by the Executive Management on Safety, Operational and Financial Performance on the back of current market conditions and Project Titan – Phase IV as well as overall Industry Outlook.