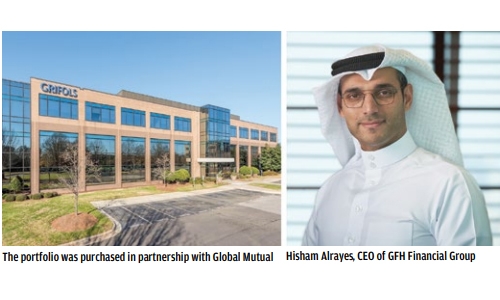 GFH buys $100m tech offices portfolio in US
GFH Capital Limited, a subsidiary of GFH Financial Group, yesterday announced acquiring a Tech Offices Portfolio in the US in a deal valued over US$ 100 million. With this deal, the total US and UK Real Estate transactions volume executed by GFH over the last few years has crossed the US$ 1 billion mark. The portfolio was purchased in partnership with Global Mutual, one of the fastest-growing real estate investment management company in the US, UK and Europe operating over £1.5 billion of assets under management.
The Tech Offices Portfolio is situated on nearly 60 acres within the primely located Research Triangle Park, which is the largest dedicated scientific research park in the US, featuring more than 250 companies and 50,000 professionals within 22.5 million square feet of built-out space.
The property is adjacent to Interstate 40, a main highway leading to two of North Carolina's major urban centres with Downtown Durham eight miles away and Downtown Raleigh, approximately 15 miles to the west. The Tech Offices Portfolio is leased to 16 tenants for an overall occupancy of 96 per cent and features an 18-acre land parcel capable of accommodating up to 270,000 square feet of additional development. GFH Financial Group, along with its investors, acquired 95pc of the Portfolio with the remaining 5pc to be held by Global Mutual (and its affiliates).
Arcadia Management Group (Arcadia), an affiliate of Global Mutual, will act as the property manager for the portfolio. Hisham Alrayes, CEO of GFH Financial Group said: "This venture will increase our footprint in the growing Tech office space in the US market. Expanding our partnership with leading international asset managers and property operators, we expect to build on the strong performance of these properties and, importantly, on the strong competitive advantage they enjoy."