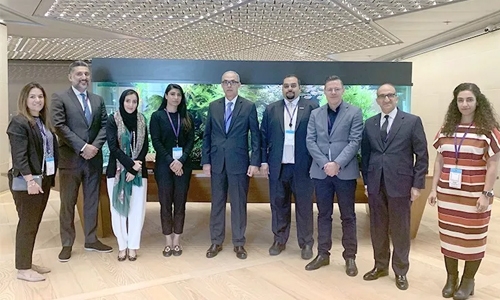 Bahrain to target InsurTech
A Bahraini delegation led by Rasheed Al Maraj, Governor of the Central Bank of Bahrain (CBB) concluded a successful visit to the UK. The delegation attended the renowned Innovate Finance Global Summit (IFGS), where senior executives from the Central Bank of Bahrain, Bahrain Economic Development Board (EDB), National Bank of Bahrain, Bank ABC and Al Salam Bank hosted a number of events and spoke on a variety of panels.
The roadshow focused on the latest FinTech developments in Bahrain, including the launch of open banking; robo advisory, cryptocurrency regulations, insurtech and the ongoing success of the region's first onshore regulatory sandbox. During a panel discussion on RegTech – the future of financial services regulation, Al Maraj said: "Our role as regulators is to inspire, lead and remove any roadblocks to innovation and we in Bahrain would like to lead growth in this sector in the MENA region.
We have ambitious plans to disrupt the insurance sector, by focusing and enabling insurtech through enhancing the ecosystem that will allow the evolvement of the sector." The EDB also hosted a roundtable debate on the importance of diversity in driving future growth in FinTech. The visit also saw the signing of a Memorandum of Understanding (MoU) between the EDB and Digital Jersey in Jersey, a self-governing Crown dependency of the United Kingdom.
The agreement seeks to build cooperation as an extension of Bahrain's efforts to internationalise its domestic success in digitising its financial services industry. The cooperation between Bahrain and Jersey will build upon the success of Bahrain's efforts to develop a sustainable FinTech industry. Bahrain FinTech Bay, the region's first and largest FinTech hub, will partner with Digital Jersey Hub and Digital Jersey Xchange. The two sides also pledged to develop a joint Women in FinTech programme.
Additional stakeholders who will contribute to areas of cooperation include Jersey Finance, Jersey Financial Services Commission and the Central Bank of Bahrain (CBB). The CBB already works alongside Jersey Financial Services Commission in the Global Financial Innovation Network, an international partnership between regulators from over 16 countries such as the UK, United States, Australia and Hong Kong, who are working together to design supportive FinTech regulatory pilot schemes.
IFGS was attended by over 2,000 FinTech leaders from around the world, offering Bahrain an unparalleled opportunity to showcase the Kingdom as the destination of choice for FinTech in the Middle East.