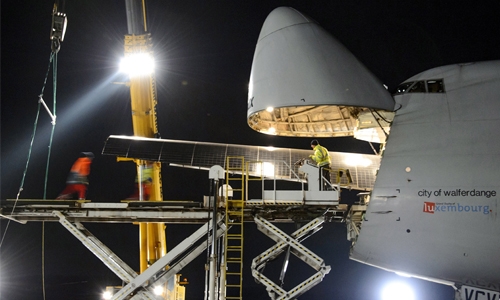 Fifty years on, Boeing's 747 clings to life as cargo carrier
Boeing's 747 jumbo jet, an aircraft that democratized global air travel in the 1970s but fell behind modern twin-engine passenger jets, has bounced back from near death to mark its 50-year flying anniversary on Saturday, thanks to a cargo market boom fuelled by online shopping.
Boeing's "Queen of the Skies" is the world's most easily recognised jetliner with its humped fuselage and four engines. It is now enjoying a second, perhaps less glamorous life, as a cargo mule for companies like United Parcel Service Inc. "It's an efficiency machine for us," said Jim Mayer, a spokesman for UPS, the world's largest package deliverer.
UPS ordered 14 more 747-8 freighters in 2018, a lifeline that helps ease doubts over the future of the jumbo, which looks set to outlive its European competitor, Airbus SE's A380. Airbus is looking "extremely seriously" at closing its superjumbo A380 factories sooner than expected, Reuters reported in January, after Dubai's Emirates indicated it might switch its A380 orders to the smaller A350.