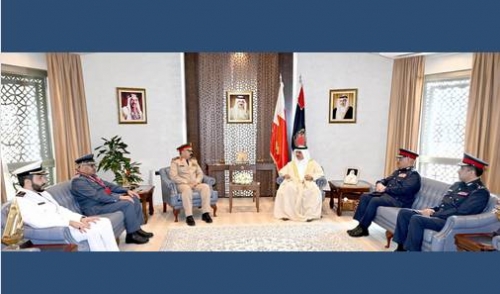 Bahrain Interior Ministry initiatives in line with royal visions
TDT | Manama
The Daily Tribune – www.newsofbahrain.com
The Ministry of Interior's launch of a number of programs and initiatives aimed at consolidating the principles of peaceful coexistence and combating extremism through the use of education to promote tolerance, peace and mutual respect, most notably the program to combat violence and addiction "Together", is in line with the lofty royal visions of His Majesty King Hamad bin Isa Al Khalifa.
This was emphasised by Interior Minister, His Excellency General Shaikh Rashid bin Abdullah Al Khalifa, while receiving yesterday His Excellency Major General Pilot Mohammed bin Saeed Al Mughidi, Secretary General of the Islamic Military Coalition to Combat Terrorism, in the presence of His Excellency Lieutenant General Tariq bin Hassan Al-Hassan, Head of Public Security, and Brigadier General Mohammed bin Dinah, Director General of Public Administration For Media and Security Culture.
During the meeting, ways were discussed to enhance cooperation and coordination in common areas, including combating terrorist financing and money laundering, in addition to developing joint work with regard to confronting violent extremism and combating it online, within the framework of enhancing the exchange of experiences and confronting security threats.
At the beginning of the meeting, His Excellency the Minister welcomed the visit of His Excellency the Secretary-General of the Islamic Military Coalition to Combat Terrorism to the Kingdom of Bahrain to participate in the activities of the 19th edition of the "Manama Dialogue 2023" summit, which is considered a high-level international platform that discusses visions regarding security issues and challenges within the framework of enhancing joint action.