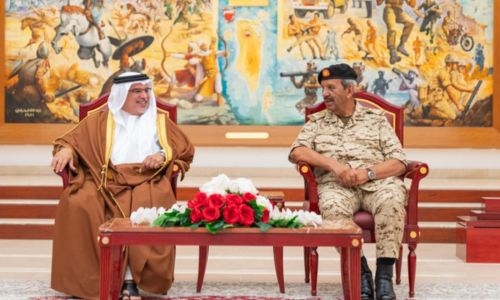 'Let's unite for peace, safety and progress'
TDT | Manama
The Daily Tribune – www.newsofbahrain.com
The Deputy King, His Royal Highness Prince Salman bin Hamad Al Khalifa, emphasised the importance of uniting Team Bahrain's efforts to ensure that the Kingdom remains a peaceful, safe, and progressive country.
HRH Prince Salman was speaking as he visited yesterday the General Command of the Bahrain Defence Force (BDF), accompanied by His Highness Major Shaikh Mohammed bin Salman bin Hamad Al Khalifa.
Upon arrival, HRH the Deputy King was received by the Commander-in-Chief of the BDF, HE Field Marshal Shaikh Khalifa bin Ahmed Al Khalifa, the BDF Chief-of-Staff, Lieutenant-General Theyab bin Saqer Al Nuaimi, and other senior officers.
HM King support
HRH the Crown Prince and Prime Minister highlighted His Majesty King Hamad bin Isa Al Khalifa's ongoing support for the BDF.
His Royal Highness lauded the BDF's role in promoting development, safeguarding the Kingdom's sovereignty and national interests, and strengthening regional and international security and stability, alongside international allies.
HRH the Deputy King recognised the sacrifices made by the BDF's personnel in safeguarding the Kingdom and its citizens, adding that their honourable sacrifices will remain etched in the Kingdom's history.
BDF's plans and programmes
HRH the Deputy King was briefed on the BDF's plans and programmes implemented to further combat readiness and efficiency across operational, training, and logistical fields.
HRH the Deputy King expressed his gratitude and appreciation to the BDF members for being active partners of Team Bahrain, upholding the Kingdom's national interests with integrity, honour, and courage.