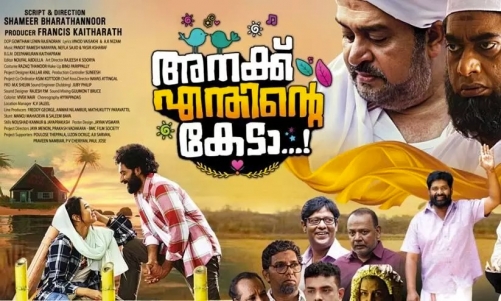 Indian movie produced by Bahrain company hit theatres
NOB | Manama
The Daily Tribune – www.newsofbahrain.com
A Malayalam feature film featuring a group of movie enthusiasts residing in Bahrain hit Indian theatres today. Bahrain Media City (BMC) Film Production's first venture, Anakku Enthinte Kedaa, centres around the struggles faced by a group of people in today's world.
BMC Chairman Francis Kaitharath is the movie's executive producer. He is involved in various businesses in Bahrain and is also well-known in socio-cultural activities. The screenwriter and director is Shameer Bharathannoor. The title of the film was designed by Jayan Vismaya.
The movie's shooting took place in Kozhikode, in the south Indian state of Kerala. It was shot in 50 locations and never required a set.
The music for the film is composed by prominent music director Ramesh Narayan and Hindustani musician Nafla Sajid-Yasir Ashraf, with lyrics by Vinod Vaisakhi, AK Nizam, and Shameer Bharathannoor. The dance choreography was done by Ayyappadas. Vineeth Sreenivasan sang for the first time under the music direction of Ramesh Narayan.
Actors included Bahrain residents as well as prominent actors from Kerala: Akhil Prabhakar, Sneha Ajith, Vijayakumar, Kailash, Sai Kumar, Veena Nair, Sudheer Karamana, Madhupal, Bindu Panicker, Shivaji Guruvayoor, Kalabhavan Niyas, Riyas Narmakala, Kulappulli Leela, Banna Chennamangallur, Manisha, Santhosh Kurup, Achu Sugandh, Aneesh Bharathannoor, Jaya Menon, Prakash Vadakara, Ishika, Preethi Praveen, Santhosh Angamaly, Mary, Master Aditya Dev, Ilyush, Pragnesh Kozhikode, Suresh, Mujeeb Rahman Akkode, Beena Mukkam, Jithesh Damodar, Muneer Khan, Balamani, Rahman Elankamal, KT Raj Kozhikode, Akhil Sarwan, Dr. PV Cherian, Praveen Nambiar, Freddie George, and others.
The chief associate director of the film is Navas Attingal. Famous director Lenin Rajendran's son, Gautham Lenin, handles the cinematography.