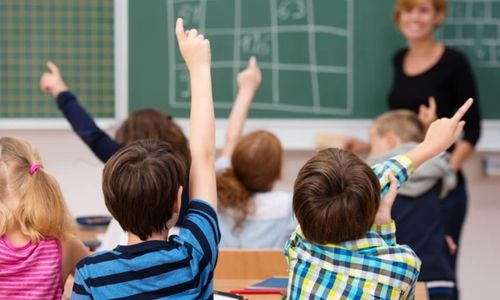 Bahrain schools survive and learn positive things out of pandemic
TDT | Manama
The Daily Tribune – www.newsofbahrain.com
Report by Julia Cassano
Three years ago, COVID-19 caused schools to close, and many institutions scrambled to shift their students to robust online learning programs.
Despite the formidable challenges Bahrain schools faced, they championed through, and educators and faculty were committed to ensuring students use the available tools and support to continue with their education.
Fortunately, educators and students came together to adapt to a new way of learning, and although it was difficult, educators and students told The Daily Tribune that the pandemic provided a new insight into the lessons and fortunes that the trying time brought.
Shana D. Seawright, Ed.S., Principal at Bahrain Middle/High School, told The Daily Tribune: "Transitioning from virtual to brick-and-mortar learning came with challenges. Many students abandoned their old habits of getting up, getting dressed, and attending school all day.
However, as educators in an unexpected situation like the pandemic, we had to provide grace to our students.
"As we transitioned to the virtual learning environment, we gave grace to students who didn't complete assignments on time or attend class daily."
Further explaining, she said that as Bahrain schools transitioned back to the brick-and-mortar setting, faculty and educators found themselves undergoing training on how to be productive scholars again.
Natalie, a senior at Bahrain School, noted some of the challenges, highlighting the students' perspective.
She told The Daily Tribune that she had faced the drastic transition from a brick-and-mortar school to a full-scale virtual school, which encompassed massive difficulties for students.
"We were stripped in many aspects, such as face-to-face communication with faculty and students, which I took for granted.
"During the virtual learning setting, screens often froze due to poor internet connection, which caused learning and communication to suffer."
She highlighted that with learning, come different types of learning, and visual learners suffered greatly during COVID.
"I learn through visual aids and having one-on-one conversations with a teacher; however, I no longer had access to this type of learning, which unfortunately caused my learning to decline," she said.
Natalie also shed light on the troubling times of having to transition back to social settings after Covid measures eased.
"It was the same routine every day for months, with no physical contact, and no extracurricular activities, and this began to affect my social skills."
"When measures began to ease and we were able to socialize again, I found it difficult to interact with people."
However, despite the challenges she faced, Natalie noted the positive insights she gained from her experience and voiced enlightening thoughts on the matter.
"It taught us to not take the simple elements of life for granted, as we all saw how they can be taken from us so quickly."
"After the pandemic, I have seen the importance of the little things and treasure them more than ever," she said.
Joshua Dinkler, a video communications teacher at Bahrain School, provided thought-provoking insights into technology and human interaction, saying: "In my video communications classes, we speak about how the camera diminishes enthusiasm and utterly flattens us out, literally and figuratively."
During COVID, we were forced to try to connect through cameras and screens, and the shift to online learning posed difficulties as the video cameras flattened us all out.
"Essentially, this robbed us of the daily engagements we normally get as teachers and students."
During the most daunting times, Dinkler noted how the shift through types of learning also brought benefits.
"The transition to virtual learning was the impetus for many of us to create new online content for our students."
One of the key takeaways is that I now have a library of online instructional videos and resources that I produced and can use in my classroom for years to come in a post-online "normal" era."
"Benjamin Franklin once wrote, "Out of adversity comes opportunity" and out of that transition to online education, many of us learned to create hybrid models of learning and have thus created a more efficient and relevant pedagogy."
CJ O'Hanrahan, Bahrain School counsellor, recounted her experience to The Daily Tribune, saying: "With challenges come gains."
Our students gained insight into the type of learners they have now become through COVID.
"All of us, both students and educators, endured a steep knowledge curve with online learning, as educators had to prepare lessons using different resources, while we gained skills that we now carry over into the classroom environment."
She added that the challenging times, allowed both educators and students to step out of their comfort zones and progress further.
"Moving back and forth between online and in-person learning was never easy; however, it certainly made us relish our time with students in the classroom," she said.
Lastly, she noted that educators missed the bustling hallways filled with chatter and activity.
"Fortunately, Bahrain School is now beaming with learning, laughter, and personal interactions.
Our technology use continues to grow and improve. "What a wonderful outcome to a trying time!"