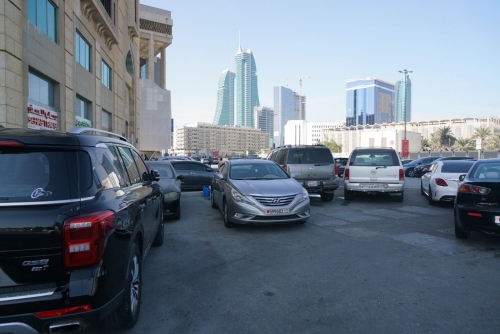 Rise in illegal parking chokes roads of Bahrain
TDT | Manama
The Daily Tribune – www.newsofbahrain.com
Reported by Zahra Ayaz
Authorities here are urged to take action against the poor parking behaviour of residents and citizens that often cause traffic jams and waste precious time on the streets of Bahrain.
Several complain that people are parking carelessly, paying no attention to other vehicles. Besides, there are restaurants with no valid parking, forcing customers to park improperly or wait hours to exit parking, which also causes traffic jams.
A few car owners are also allegedly responsible for blocking public roads with iron rods or cement blocks to reserve spaces, with this behaviour being prominent at food outlets. People say wrongly parked vehicles frequently clog the roadways. Speaking to The Daily Tribune, Santosh Kumar, an expatriate, said, "The other day, my kids craved to have restaurant dinner, and we drove to Adliya.
"Reaching, I found parking in front of a restaurant and went to have dinner. "However, upon returning, I saw a GMC parked, blocking my car. "I rushed through all the nearby shops to spot the owner but to no avail.
"So, I approached the restaurant manager to see if anyone there owned the GMC, but was left high and dry. "In the end, I had to wait another 30 minutes for the vehicle owner to arrive and get my car out.
"I plead with the authorities to ensure patrols on all busy streets to prevent vehicles from blocking the way." Earlier, The Daily Tribune had reported a similar issue where motorists complained about the defunct parking machines, which they claimed made them traffic rule violators, and often ended up paying fines for illegal parking.
Authorities installed parking machines during the past years to streamline the parking system to end illegal parking quite prevalent across Manama. According to the Works Ministry, most of these pay and park machines work on solar energy.
"One machine can serve 20 parking spaces, which can also be programmed and tracked." Despite all these efforts, improper parking behaviour continues as one of the most common violations in the Kingdom.
Several road users also complain that the authorities have done little to address the issue. They also attribute the parking crisis to the rising vehicle count and fewer parking spaces. The ministry says they provided the Kingdom with as many as 450 car parking lots in the first quarter of this year.
The ministry said the cost of setting up these parking spaces amounted to BD90,000, and they have earmarked more funds to construct more parking spaces in the future.