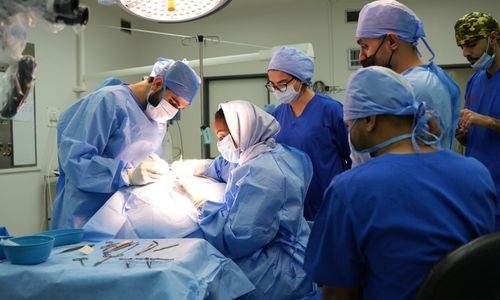 Bahraini man undergoes life-saving surgery at SMC
TDT | Manama
The Daily Tribune – www.newsofbahrain.com
A team of surgeons from the Ear, Nose, Throat and Anaesthesia Department at the Salmaniya Medical Complex saved the life of a Bahraini man in his sixties suffering from a cancerous tumour in his larynx through a complex surgery. The tumour created a life-threatening condition for the patient, who developed an obstruction in his airway producing difficulty in swallowing. Dr Dina Shabib, a consultant laryngeal and vocal cord specialist, and Dr Melda Khalil, an anaesthesiologist consultant, led the surgery. The medical team included Dr Amr Bahr, Dr Rehab Gharib from the Anaesthesia Department, Dr Talal Hassan, Dr Muhammad Siyadi, and Dr Esraa Qaidi.
"The patient developed severe swelling leading to a complete closure of his airway, requiring urgent surgical intervention," doctors said. Dr Dina Shabib, a senior consultant in the field of breathing and throat at the ENT department at SMC, said that conducting such operations reflects the outstanding capabilities and skills of the medical staff at SMC. Dr Melda Khalil, a Senior Consultant in the Department of Anaesthesia and Pain Care, praised the outstanding performance of SMC staff. Dr Talal Hassan explained the multiple symptoms that may appear in patients with this type of cancer, which are a change in the voice, the appearance of a lump in the neck, a feeling of pain in the throat, suffering from breathing problems, difficulty in swallowing, and unexplained weight loss.
Dr Talal added that the genetic mutation in throat cells is one of the most important causes of throat cancer, where smoking is the root cause of these mutations. Other factors include alcohol consumption and problems in the immune system.